Privately-owned radiology group speeds diagnoses
In 1994, radiologist Dr Kim Laver acquired the Schwyz Radiology Institute. In recent years, radiology centres in Cham, Schaffhausen (MRS Magnetresonanz Schaffhausen AG) and Bellevue Zurich were also acquired. In July, this year, the Lindberg Winterthur Radiology Institute also became a member of the group.
We asked radiologist Cyrille H Benoit MD, Director of the Bellevue Zurich Radiology Institute, about the group's choice of radiology equipment - particularly its PACS - and the rules of reimbursement in the Swiss healthcare system.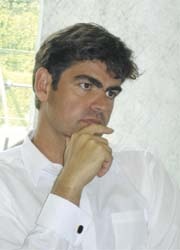 Bellevue was a small radiological practice that offered mammography, ultrasound and conventional x-ray, Dr Benoit explained. 'Dr Laver took over, moved to new premises and refurbished, modernized and expanded everything, with two objectives: to optimise patient care – and economic benefit.'

Does the group cater for private patients exclusively?
'In Switzerland things don't work the same way as in Germany. We don't make a difference in the out-patient sector, but receive the same amount from Swiss health insurers no matter where the patient is insured.'

So the typical private patient doesn't exist?
'Correct. There are certain services that are not covered by health insurers; consequently the patient has to pay when he uses them.'

How do you ensure the economic success of your institute?
'Through the quality of our work and speed of examinations - a patient does not have to wait over four weeks for our results. Most examinations can be performed in a day, which is currently a crucial issue in this market: How fast can I deliver my services?'

You opted for a KODAK CARESTREAM PACS. Was this to speed up your workflow?
'That was indeed an important reason – to work more efficiently and faster. In addition, we save money because we no longer have to print films. The next step in our agenda will be to forward images to the physician, to further accelerate the entire process. Currently, the referring physician can chose which image format he prefers: paper or CD. Normally we send the CD by mail and hand over the paper images to the patient.

PACS has one major advantage: In Switzerland we are required to archive the examinations on a secure data carrier. Neither paper nor CD are considered secure because we cannot guarantee that they survive ten years. That means we either need PACS or X-ray film. However, when I have a paper print to give to the patient, I also have to archive the x-rays.
Most of our referring physicians are older colleagues who went through their training before PC and internet, so they still want films and if that's what they want, they'll get it.'

Why did you choose this particular PACS?
'Because the entire package – price, service, innovation potential – suited our needs perfectly. And I'm very satisfied. For me simple handling is crucial. I have to be able to access the information quickly, for example, call up well-designed lists to see immediately when and where previous examinations were performed, what still needs to be done and what's already there. I want to move through each step of the process swiftly and want the data to be clearly presented. Certainly it is also important for me to be able to view CT and MRI images on the PACS monitor and not have to switch to the workstations of the individual modalities. All this saves a lot of time!

'We are certainly planning to implement the PACS in our other institutes. Currently, the individual institutes work quite independently of each other. Synergies are realised by the range of services we can offer. If, for example, a CT is needed over a weekend, it can be performed in Schwyz and evaluated in Zurich. Or we obtain a second opinion from a colleague whom we know he is specialised in the subject matter. This means there is a certain degree of cooperation.
'However, in Switzerland private institutes are primarily local providers and the referring physicians want to personally know the radiologists they work with. They need personal contact, to be able to call and know the person on the other end of the line. Therefore, it is particularly important that we make efficient use of the synergies within our group.'

Walking through your institute we noticed that products from almost all manufacturers are used. Why didn't you opt for a PACS from one of those equipment manufacturers?
'Because the KODAK CARESTREAM PACS is the most innovative solution and, with a diverse equipment park, such as ours, it is easier to integrate a system from an independent solutions provider. Some of the manufacturers of large equipment said about their PACS: 'It works with our products, but we don't know whether it will work with the products from other manufacturers'. That was an important issue – a PACS should be completely compatible with all products on the market.
More on the subject:
More on companies: