Premium GE ultrasound technology at 'economy class' cost
Today, ultrasound is present in most specialised medical fields, and even used in small practices. However, in terms of quality, when using ultrasonic equipment in the low price segment, users often had to compromise in terms of quality.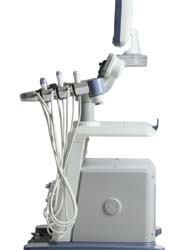 This has been not only to do with resolution, but also the granulation typical in an ultrasound image.
This year at MEDICA, GE Healthcare is introducing its new 'economy class' ultrasound device that, GE reports, integrates high-performance with high-end technology. 'The LOGIQ A5 Primare permits only monochrome B-images - but these are of a very high quality, because the hard- and software are taken from the considerably more expensive medium-class system LOGIQ P5. The two-dimensional B-mode provides an optimised view of the anatomical conditions as well as, if necessary, of pathological changes in organs and tissues. The possibility of Doppler ultrasound to record the blood flow speed in vessels has foregone in the member of the LOGIQ family.'
Thanks to its refined multiple focusing, the system delivers a local resolution that corresponds with that of the high-end class and can also be optionally equipped, in the 'Premium' version, with GE's unique speckle reduction, the company adds. 'In this connection, the graininess typical of the ultrasonic image is recognised as an artificial phenomenon and eliminated. The result is an amazingly realistic representation of the tissue and its fine structures, which comes close to that of the MRT. New image processing techniques such as Phase Inversion Harmonics or CrossXBeam provide a clear definition of boundary surfaces, reduce artefacts as well as the background noise, in order to distinguish more clearly between cystic and echo poor lesions more clearly.'
In addition to routine applications in general and internal medicine, the LOGIQ A5 Primare is suitable for more specialised investigations e.g. in orthopaedics, rheumatology or paediatrics, GE points out.
More on the subject:
More on companies: