Precision radio therapy
Professor Wolfgang Schlegel, Head of the Department of Medical Physics at the German Cancer Research Centre, has been awarded the 2003 clinical section of the German Cancer Award, for significantly improving the precision with which radiation beams can be directed at a tumour.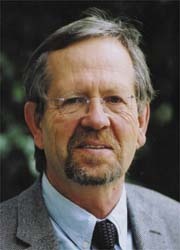 Computer-based multileaf collimators and programmes for 3D-therapy planning developed in his department ensure healthy surrounding tissue is not affected by radiation.

Malignant tumours 'horse-shoe' around highly radiation-sensitive organs (e.g. optic nerve, bone marrow). Prof. Schlegel recently developed intensity modulated radiotherapy (IMRT) in which the radiation beam intensity can be modulated within the target area. Consequently, the radiation dose to the tumour can be increased without affecting surrounding tissue.

A first comprehensive study (USA), involving some 700 prostate cancer patients, indicated that IMRT reduced serious side effects and increased disease-free survival rates. The German Cancer Research Centre has been conducting a study since 1998 to clarify which tumours are best treated with IMRT. To date, about 400 patients with head tumours, tumours close to bone marrow, plus prostate and breast cancers have been treated, with very promising results.
ECR medalists
Vienna - Dr Erik Boijsen of Lund, Sweden, and Dr. Rafaella De Dominicis of Florence, Italy, were awarded The European Association of Radiology's Boris Rajewsky medals.