Pocket-size echocardiography
When a patient needs transthoracic or transoesophageal echocardiograms there are two options – transportation to an ultrasound machine in the echo lab, or wheeling a machine to the bedside. Now there is a third option. The new Vscan from GE Healthcare is a hand-held ultrasound device that is pocket-size; cardiologists can carry with them at all times, enabling ultrasound to be a part of any initial examination.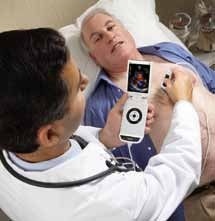 At St George's Hospital,
London, Professor George Sutherland uses the Vscan every day. Does he believe this device could change
the face of echocardiography procedures? The image, he said, is of diagnostic quality. 'The Vscan lets us look at the structure, the function and blood flow within the heart. It's a visualization tool, with greyscale imaging and colour flow Doppler, which lets us make clinical decisions quickly on the basis of high quality images.'
Invaluable in triage
'I see doctors primarily using Vscan in the emergency area. They'll use it to look for fluid around the heart, to see how the left ventricle is functioning and if there is significant valve disease. Is this a real cardiac condition, or does it exclude a cardiac condition? For example, patients often come to our hospital with knife wounds and cardiac tamponade with fluid around the heart - this should be easily diagnosed by Vscan.
High-end technology in miniature
'We are used to the exceptional image quality offered by large machines and this technology has been adopted by the Vscan. With it, I've scanned many patients of various weights, sizes and conditions and I find the image quality diagnostic. We can identify global and regional abnormalities in ventricular function, and colour Doppler allows us to see valve regurgitation and if the valve is stenotic. We cannot measure the degree of stenosis - Vscan is a diagnostic, not a quantification tool – but is ideal for identifying whether the patient needs more detailed examination or for confirming the absence of significant cardiac disease.'
A significant contribution to cost reduction
'A permanent issue, in any hospital or clinic, is the number of machines and their cost. We currently use expensive machines with exceptional image quality simply to exclude cardiac disease.
By using Vscan we can free up these high-end machines and use them solely for the detailed, quantitative
examination of patients where we know there is significant cardiac disease. Vscan will become a standard part
of the cardiologist's kit 'Vscan is small, robust and affordable enough for cardiologists to carry in their pocket at all times. Simply flip open and scan. Vscan has a large memory, takes cine-loops down in real-time, stores them, and probably has six weeks to three months storage time, depending on the number of clips you take per exam. At the end of day, you can simply transfer the studies you've done to your computer by Ethernet.'
Expanding the role of cardiac ultrasound
'Vscan will probably also go out into the family practitioner environment. With adequate training it can be used
to triage patients appropriately towards cardiology. In terms of other medical specialties, I see it being used in acute abdomens, in foetal medicine and possibly in orthopaedics, but I think its primary use will be in cardiology.'
More on the subject:
More on companies: