Image source: Unsplash/United Nations COVID-19 Response/Illustration: Russell Tate
Article • MEDICA session
PCR tests excel during Covid-19 pandemic
In early 1990, at Analytica, in Munich, a young US-American researcher Kary B Mullis received the award for biochemical analytics for his 1983 invention: the polymerase chain reaction (PCR) – a success topped in 1993 by the Nobel Prize for chemistry.
Mullis' work revolutionised DNA copying, a process which, before PCR, had taken weeks. Whilst initially PCR was used to create digital fingerprints, other fields of application quickly emerged, such as the detection of genetic diseases and viral infections. With the Covid-19 pandemic, which has swept the globe for many months, PCR has become a household term. We asked Dr Alexander von Meyer, Medical Director and Director of Laboratory Medicine, Medical Microbiology and Technical Hygiene at München Klinik, in Munich, to explain the role of PCR in the pandemic.
HiE: In the early days of PCR only a few specialised labs could perform this new diagnostic method, thus samples were transported across the country. Lay people never heard the acronym being used, except maybe in a crime show on TV. Today everyone may know what PCR is. Is this development exclusively due to Covid-19? Did your lab perform PCR before the pandemic and have test capacities changed?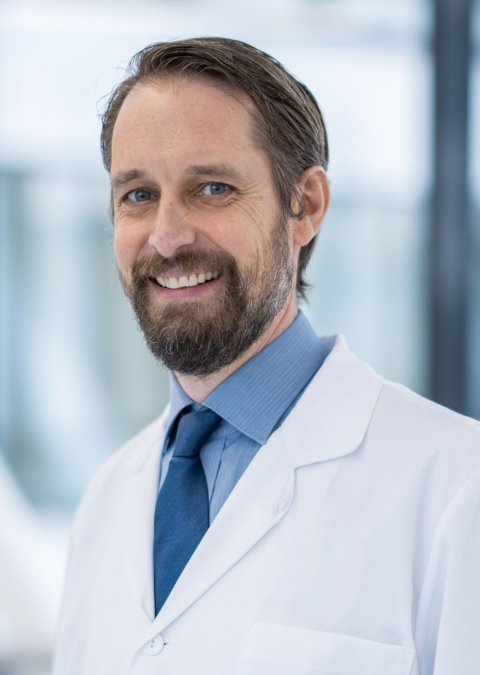 Dr von Meyer: On 1 July 2020 I changed jobs. Before, during the peak of the first wave, I was in charge of the labs of a hospital group, the Kliniken Nordoberpfalz AG and St. Marien hospital in Amberg. In the city of Weiden not one single lab handled molecular genetics. With the help of the Bernhard Nocht Institute for Tropical Medicine – BNI – and its mobile European lab, within 24 hours we set up a lab that could process 140 tests per day from the get-up-and-go. The team was trained and, when the Bernhard Nocht Institute left, the same number of tests was performed – and still is today.
Since July 2020 I've been in charge of the labs of München Klinik (Munich hospital), which had a PCR lab before I joined the team. In the early days of the pandemic, 32 tests could be processed per day. We restructured, optimised the workflow and added staff, which enabled us to process approximately 1,300 tests per day – without major investments in equipment. In both cases, my old and my new job, I witnessed comprehensive and very positive changes that I could not have imagined before.
How difficult or reliable is the interpretation of the test results?
Reading the PCR test results is indeed not always easy. In Weiden, the BNI used a 'simple' reading protocol based on the two target sequences shown by the test. Nevertheless, there are results that were impossible to read, which means they cannot be unambiguously linked to a high viral load in the sample. When this happens, we document it in the test report. In many doubtful cases a reliable diagnosis can only be established by looking at several test results, including tests for antibodies.
The heated debate continues about PCR versus antigen tests. In view of the current situation the conflict is understandable. Where do you see advantages and disadvantages?
In my opinion, wide use of antigen tests will help control the spread of infections during the pandemic

Alexander von Meyer
Antigen tests are less sensitive than PCR – this was to be expected and is corroborated by our own research. The major advantage of antigen tests is their wide availability: in a POC setting we can have results within 15 minutes. The drawback: reading the results is very subjective and difficult or impossible to document. External research and our own results confirm that the tests are sensitive as long as there is a high antigen load. That means when the samples are collected from people with a high viral load in the throat and, when they are collected correctly, the results are highly reliable.
PCR tests on the other hand deliver reliable results also with low viral load, for example in the early stages of an infection. That is something the antigen tests can't do or can do only to a very limited extent. More research on this topic is needed and will provide further insights into the different use cases for the tests. In my opinion, wide use of antigen tests will help control the spread of infections during the pandemic. We are also expecting fully automated antigen tests to be able to run on the current large systems of the manufacturers of diagnostic equipment – this will further improve testing in Europe.
What is your overall assessment of rapid tests that tend to be less precise than PCR and antigen tests? Should or must each rapid test be backed up by PCR?
In view of the current data from acute care hospitals, we always back up an antigen test with PCR. As mentioned, there might however be cases were antigen tests do not require PCR backup.
How important, in tests, is the cost factor?
Today, the costs of test provision and reimbursement are two issues. In the early days of the pandemic, the costs of expensive tests performed in a hospital were not reimbursed. Today, the costs for PCR tests are reimbursed under national and regional programmes. Reimbursement fully or partially covers the costs, depending on the size of the facility and the test throughput. As of 15 October 2020 new national reimbursement rules are in place that primarily concern antigen tests. Currently, there is a bottleneck because the manufacturers cannot supply the tests. We expect the number of performed and reimbursed PCR tests to fall significantly. We have to wait and see.
Recommended article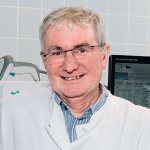 Interview • Quality aspects
The academic teaching Karlsruhe Hospital, at the University of Freiburg, is the largest hospital providing tertiary care in the Middle Upper Rhine Valley. Every year, 63,000 in-patients and 180,000 out-patients are treated in the 1,500-bed facility with 50 departments and 30 out-patient clinics. Inevitably, a hospital of this size has a central lab. We spoke with Dr Horst Mayer, managing senior…
During the pandemic time-to-results is of the essence. How do you see this?
For many clinical processes time-to-results is crucial. As long as no results are available patients have to be considered potentially infectious and be treated accordingly. This places an enormous burden on the hospitals. The faster a patient can be classified as negative, the better possibilities to optimise treatment – and both the hospital and patient will benefit from this optimisation.
When new medication or a vaccine is available more PCR test will be required. Do we have the necessary test capacities in terms of labs and equipment?
As far as the reagents are concerned the situation is much better today than six months ago. There might be bottlenecks for some components. Since, as mentioned before, we expect automated antigen tests within a few months, test capacities will significantly increase. In my opinion, we have reason to be optimistic: the overall current situation indicates that we will be able to handle the coming months.
Profile:
Following his medical graduation at the Technical University (TU) Munich, Dr Alexander von Meyer worked in various hospitals there until, in 2014, he was appointed Director of Laboratory Medicine and Microbiology in Weiden/Oberpfalz and Amberg city hospital. At the same time he also headed the Amberg healthcare centre (MVZ). In July 2020, von Meyer became the Medical Director and Director of Laboratory Medicine, Medical Microbiology and Technical Hygiene, at Munich Hospital (München Klinik).