The MAGiC
One Scan. Six contrasts. Triple Speed.
SIGNA Pioneer, a new 3.0 T ­Magnetic ­Resonance Imaging (MRI) system, ­embodies the exploration and expansion of modern medical imaging and blazes a trail to the future of MRI. Dr. Ahlers, general manager of radiomed, shares his experience with SIGNA Pioneer recently installed at radiomed practice in Wiesbaden, Germany – one of the ­first installations worldwide.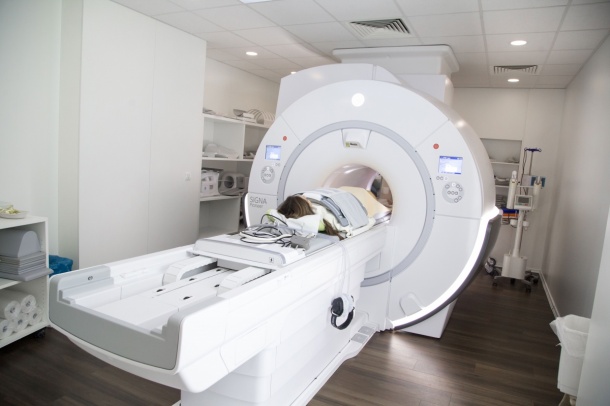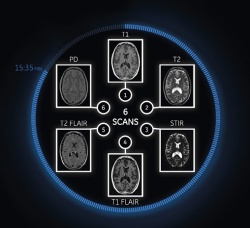 Bringing 3.0 T MR to new clinical setting
With up to twice higher signal levels, 3.0 T MR systems improve spatial resolution and therefore provide more information on very fine anatomical structures, compared to 1,5 T systems. 3.0 T MRIs are common in academic and research hospitals. Now the SIGNA Pioneer brings the power of 3.0 T for clinical use and accessibility to a broader range of healthcare providers. The SIGNA Pioneer 3.0 T MRI delivers the ease-of-use and flexibility of a 1.5 T system, with improved image homogeneity and reproducibility for oncology and spine imaging for example. In addition, ultra-high ­efficiency gradient technology enables the MR system to maintain a high-end performance, even during demanding clinical applications such as cardiology or oncology. "In comparison to the 1,5 T MR, our image quality for Brain and MSK clinical cases has improved significantly, now we are able to increase the signal-to-noise ratio (SNR) or resolution or both. We also observe very high cardiac imaging performance with high SNR for perfusion" said Dr. ­Ahlers, ­general manager of radiomed. Using equi­valent imaging parameters, physicians are also able to use the signal gain to ­shorten patients' breath-holds for ­liver exploration, and even to complete free-breathing body imaging, offering a much improved patient experience but also image quality in very challenging situations.
The MAGiC of complete flexibility for multiple contrast changes
The new MAGiC sequence is a major innovation in neuro imaging. For the first time ever with MAGiC, clinicians have the ability to generate six ­contrasts in a single scan and in as little as one-third of the total time taken to acquire each contrast separately using conventional techniques. After an acquisition of only five minutes, it is now possible to adjust the image contrast in real time, even after completing the scan by simply moving a dynamic cursor to change conventional MRI acquisition parameters (TE, TR and TI) depending on the disease or the age of the patient. Dr. Ahlers ­stated: "In addition to all contrasts automatically provided by ­MAGiC, such as FLAIR, T1, T2, PD, STIR and PSIR, we scan three ­additional sequences including T2* and DWI to have a comprehensive brain routine protocol, all in less than ten minutes."
This time saved could potentially allow clinicians to scan one more patient per hour, every hour of every day. MAGiC also provides quantitative information (maps T1, T2, and proton density) which has the potential to provide new perspectives for physicians to characterize earlier and more ­precisely small or secondary lesions and moni­tor patients with neuro­degenerative disorders.
Innovative clinical applications for professional healthcare
In addition to MAGiC, the SIGNA Pioneer offers ­several impressive advances in imaging with innovative applications and thus gives clinicians a high diagnostic confidence: "With SIGNA Pioneer, our goal was to improve both productivity and image ­quality simultaneously. We are already ­seeing results with inno­vative sequences. For example in body imaging, the new sequences DISCO and FOCUS have changed our ­pelvic protocol for oncology studies. We now use a FOCUS small FOV diffusion centered on the pelvic area with significantly reduced distortions especially at 3.0 T. DISCO has replaced our previous DCE-MRI sequence since it allows us to achieve very high ­temporal resolution and very high spatial resolution simultaneously. This has helped to improve assessment of lesion enhancements." He ­added: "The system is ­really built for large field of view body and spine imaging. We are able to ­routinely scan 50 x 45 cm coronal scans with very good image quality. In many cases it minimizes the ­number of stations we would need for body and spine imaging."
Improving patient experience in very challenging situations
Patients with neurodegenerative disease, who cannot remain still during the examinations, will also now be able to benefit from MR. With new advanced 3D motion correction software, SIGNA Pioneer will compensate patient movement to provide the same image quality and comfort for diagnosis despite involuntary movements.
An enhanced SilentScan package also considerably ­reduces scan noise from excess of 110 decibels (dBA) for conventional MRI scans to just three dBA above ambient noise for most head exams. This is a major differentiator for patient comfort and to minimize the risk of deteriorating image quality for the radiologist in anxious patients. "The SilentScan technology has helped us deliver a ­nearly noise-free neuro exam including Diffusion Weighted imaging. Our patients really appreciate it", concluded Dr. Ahlers.