New opportunities with 70 cm
On show in the MR sector at this year's RSNA was the Optima MR450w wide-bore system manufactured by GE Healthcare. Built on a fully redesigned MR platform, this offers a range of advanced new functions, which, GE reports, makes it 'a workhorse system for practices of all sizes and specialties'.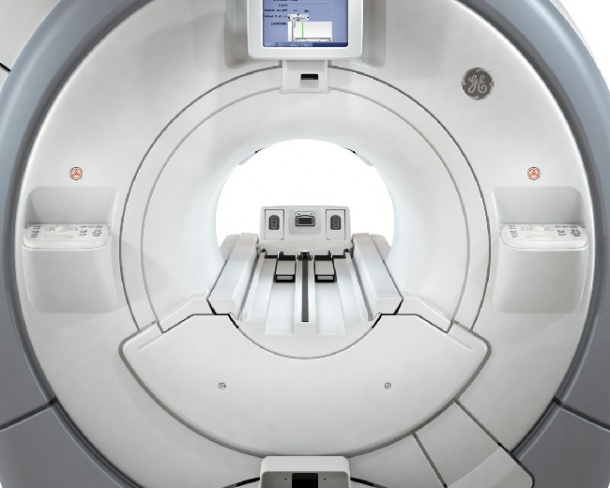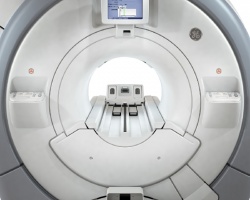 'Advanced functionality gives clinicians the tools they need to make definitive diagnoses such as, unmatched breast imaging, large field of view abdominal imaging, two-station spine imaging and noncontrast enhanced imaging.
'Along with these, the 70cm patient bore opens up additional pathways for diagnosis and treatment. Greater patient
positioning freedom and access enables new interventional and surgical procedures -- especially for larger patients, children and those prone to claustrophobia. The next generation gradients and clinical applications also reduce scan time and improved airflow results in a cooler experience.'
GE adds that the true potential of wide-bore MR becomes clear with this equipment, because the radiologist can
• Capture 4 contrasts with highresolution in just one short scan and they virtually eliminate fat suppression failures even over a large FOV whole abdomen with LAVA-Flex.
• Virtually eliminate fat suppression failures in breast imaging – even over a large FOV with irregular anatomy – using VIBRANT-Flex.
• Acquire angiographic images of the brain and renal arteries with excellent background suppression in short scan times with Inhance 3D Velocity, a noncontrast enhanced technique. Inhance Inflow IR is another non-contrast technique for renal MRA studies that can eliminate time-consuming set-up time.
• Complete a whole-spine exam in two stations or evaluate a postsurgical implant with the knee bent to 90 degrees with minimal artifacts from hardware with IDEAL.
• Capture high-resolution, motion insensitive images in the axial, sagittal or coronal plane with PROPELLER. Correct for susceptibility artifacts at air/ tissue interfaces, which are commonly seen in the temporal lobes when using standard EPI sequences with PROPELLER DWI.
• Scan once and reformat into any plane with excellent resolution with Cube, a volumetric imaging technique with isotropic resolution.
More on the subject:
More on companies: