Multi-disciplinary team approach offers better breast cancer care
A multi-disciplinary team approach is crucial if healthcare professionals are to offer breast cancer patients the best possible care in the years ahead. That was the opinion voiced by three experts at an ECR 2012 session on Saturday afternoon with delegates addressed by a radiologist, surgeon and an oncologist.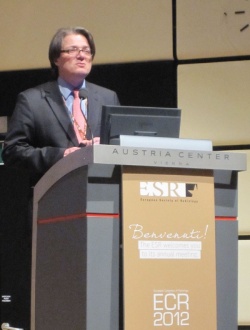 However, it was also stressed that the multi-disciplinary team (MDT) extends far beyond the key players to also include nursing staff, psychotherapists, plastic surgeons and palliative care staff also involved in the larger MDT approach to breast cancer care.
As one of the multidisciplinary sessions from ECR 2012, called managing patients with cancer (breast cancer), it was chaired by Professor Thomas Helbich from the Medical University Vienna, supported by his colleagues from the institution Professor of Surgery, Michael Gnant, and oncologist Professor Gunther Steger.
Professor Helbich outlined how the team centres around the Breast Health Centre in Vienna with imaging – ranging from mammography to ultrasound, MRI and tomosynthesis - playing a key role for screening and the characterisation of breast lesions.
He stressed the importance of the patient having access to breast experts at a Breast Care Unit where staff work as a team, with no delays in offering the patient treatment to reduce anxiety. He also said it was important that state-of-the-art equipment was available and that staff worked to high quality standards. Professor Helbich said a MDT approach led to a high quality of care and added: "Overall, patients will acknowledge your efforts if you offer breast care of high quality."
Professor Gnant said there was a decline in breast cancer mortality and that of the 5,000 newly-diagnosed breast cancer cases in Austria every year, 80% would be cured. "It is important for the psychology of the public that we transmit that message," he said. "But in addition to curing breast cancer patients, the aim is to preserve women's breasts wherever possible. We are on the verge of eliminating mastectomy and that is based on a multi-disciplinary approach."
With 90% breast conservation among patients in Vienna, he stressed that close co-operation between the imager and the surgeon was key for surgical success.
The role of the oncologist was outlined by Professor Steger who told delegates that breast cancer was not a homogenous disease but that there were now five different identified diseases and added that optimization of therapies remained important.
The session heard that the MDT met weekly and discussed each case, before and after surgery. By Mark Nicholls.