MRIs may lead to unnecessary breast surgery
Women could be undergoing unnecessary breast surgery as a result of having magnetic resonance imaging, says an expert on bmj.com. In the last decade, says Malcolm Kell, Consultant Surgeon and Senior Lecturer at the Eccles Breast Screening Unit at University College Dublin, MRI or magnetic resonance mammography has become the most favoured type of investigation for high risk patients when combined with mammography and ultrasound.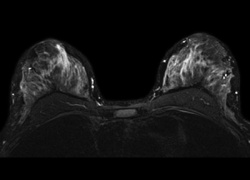 Kell says while magnetic resonance mammography (MRM) is extremely useful in monitoring advanced breast cancer and also to assess the response in the breast following chemotherapy, the use of this technology in early stage breast cancer may do more harm than good. He concludes that "there is no compelling evidence that this technique should be routinely used in newly diagnosed breast cancer."
The author refers to one study in women with breast cancer who were being considered for treatment without surgery which shows a 6% increase for mastectomies in women who had an MRM compared to women who did not. He believes the higher rates of surgery could be because MRM is so sophisticated that it picks up harmless recurrence or extension of tumours whose removal will not alter the patient's prognosis.
While supporters of MRM say using it routinely is likely to pick up disease recurrence, the evidence does not back up their view, says Kell.
He argues that the best way to manage early stage breast cancer and reduce the need for unnecessary and invasive surgery is through yearly monitoring and drug treatment and radiotherapy where necessary.
Click here to read the full article
Picture Credit: Siemens Healthcare