News • Trade fair
MEDICA 2019 focuses on future topics and growth markets
As a result of the final phase of exhibitor registrations for the world's leading medical trade fare MEDICA 2019 in Düsseldorf (running between 18 and 21 November), one thing is already apparent: Exhibitors have a positive view of the updated allocation of subjects to the trade fair halls and are aligning their participation to the new structure with regard to target group orientation and placement and are also, in part, expanding their presence.
Despite a market environment that is becoming increasingly demanding, Messe Düsseldorf once more expects participation of over 5,000 exhibitors from more than 60 countries. "Increasing trade restrictions, higher margin pressure and Brexit – conditions on the market demand that our exhibitors pool their strengths, as must MEDICA, as well. There is a clear focus on future topics and growth markets," explains Wolfram Diener, Managing Director at Messe Düsseldorf. Digitalization clearly sets the pace for market development and MEDICA takes this into account, which is reflected in the new hall structure and the programs of the accompanying conferences and forums, says Diener. "In future, the healthcare industry and medical technology will only remain competitive if they keep up with digital change consequently and strategically."
Recommended article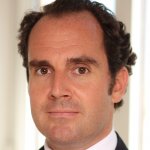 Interview • Drones or data cables?
Today the impressive development of drones by some people is happily regarded as the pinnacle of digitalisation in healthcare. Some groups are testing whether drones can quickly and safely deliver defibrillators to patients in need or whether they can transport laboratory samples or blood products. These developments catch lots of attention, but PD Dr Dominik Pförringer, trauma and orthopaedic…
With regard to performance and cost aspects, the operating room segment is possibly the most relevant interface of every treatment workflow and therefore particularly important for a clinic's success

Wolfram Diener
Based on this development and the increasing convergence of software and hardware, especially in the fields of medical technology and electromedicine, the MEDICA information and communication technology segment will be moved from Hall 15 to Hall 13, where it has a direct connection to the halls for medical technology and electromedicine (Halls 9 to 14). The communication and information platforms MEDICA Connected Healthcare Forum and the MEDICA Health IT Forum will also be located in Hall 13 in the future. These forums both attract a lot of attention, drawing in at least 10,000 visitors at the last trade fair, and are established audience magnets with sessions and presentations on all of the relevant digital healthcare trends. The same applies to the MEDICA Start-Up Park, the platform for the digitally-driven start-up scene, as well as the large joint stand for the wearables technology show.
Manufacturers of surgical instruments, on the other hand, will leave Hall 13 to move thematically closer to providers of imaging technology (e.g. endoscopy) as well as complete solutions for modern hybrid operating rooms in Halls 10 and 11. "With regard to performance and cost aspects, the operating room segment is possibly the most relevant interface of every treatment workflow and therefore particularly important for a clinic's success. At MEDICA, we show top decision makers state-of-the-art technology and operating room organisation with short distances in concentrated spaces," says Wolfram Diener, emphasising the clear benefits the new hall structure offers visitors.
Digital change as an opportunity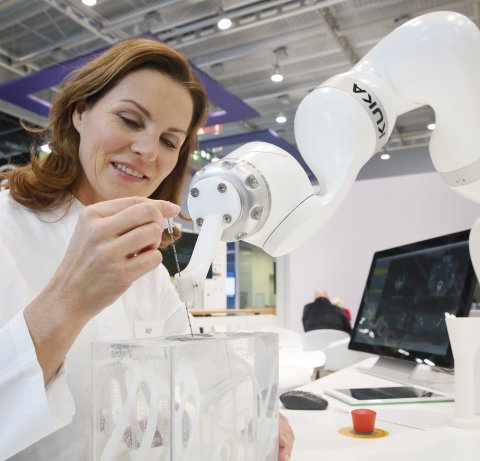 KUKA and HUR are among the companies that view digital change in a competitive environment as a particular opportunity and see MEDICA as the right platform for international businesses. Computer-assisted training devices, for example, are at the core of HUR's activities. For the Finnish company, taking part in MEDICA is a tradition – and for good reason, as Lena Karjaluoto, Executive Vice President at HUR, explains. "Here, we present our innovations, meet customers from around the world, train distributors and regularly make new contacts."
KUKA is also active around the world. The company specialises in automation and robotics and at MEDICA 2018 presented the LBR Med, a sensitive lightweight robot with various fields of application in medical technology. Subsequently, KUKA now plans an especially grand performance. As part of MEDICA 2019, they will present the "KUKA Innovation Award 2019". "Healthy Living" is the motto of this year's award, which is endowed with 20,000 Euros. KUKA consequently will be awarding the prize as part of the No. 1 international medical trade fair. The prize is addressed to developers, graduates and research teams in companies and at universities and aims to accelerate the speed of innovation in the field of robot-based automation and strengthen the technological transfer from research to the industry. The five finalists have already been chosen. They will present their concepts live at MEDICA 2019. The scope of their topics ranges from robot-assisted intestinal cancer diagnostics and robotic support in neurosurgery to robot-assisted treatment of microfractures in the spine.
Recommended article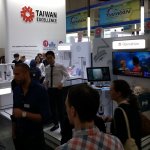 Article • Innovation
Jhy-Wey Shieh sees the link between Taiwan and Germany as obvious: 'The word "trade" – of central importance for Medica – starts with "t" for Taiwan and contains "de" for Germany – there is no better way to put it.' Even though the Taiwanese ambassador's linguistic journey was not to be taken too seriously, this year's presentation from the Taiwan External Trade…
Expanding presences and renowned returnees
Mindray and Zimmer MedizinSystems are among the exhibitors that are flying their flags and further expanding their presence at MEDICA. To address the target groups of different disciplines selectively and optimally, medical technology company Mindray will present their broad range of products at two booths: the familiar booth in Hall 9 as well as in the new Hall 1. The latter focuses on applications for laboratory medicine. Their good experience with MEDICA caused Zimmer MedizinSystems to also book space for a second booth. As a full-range provider for diagnostics, therapy and aesthetic medicine, Zimmer will not only be present at their booth in Hall 9 (electromedicine and medical technology segments) bus also in the physiotherapy segment in Hall 4. With a record seven digit turnover in 2018, the company's trade fair success did not come out of nowhere: In the previous year, 20,000 doctors and therapists received ticket vouchers in advance. "Accordingly, our booth was well attended. MEDICA has accompanied us for years, here, we reach all our goals," summarises Armin Zimmer, CEO International at Zimmer Group.
The list of the most renowned returnees among the exhibitors is enriched by Abbott and Euroimmun. Together with every exhibitor in MEDICA's area for laboratory technology and diagnostics, they will benefit from the upcoming completion of the new South entrance and the new Hall 1, where they will be presenting their innovative solutions.
The main focal points at MEDICA 2019 are: Laboratory technology / diagnostics (Halls 1 and 3), physiotherapy / orthopaedic technology (Halls 3 to 5), commodities and consumables (Halls 5 to 7 and 7a), electromedicine / medical technology, information and communication technology, medical furniture and specialist furnishings for hospitals and practices (Halls 9 to 17).
The schedule for the conferences has been set
In addition to the trade fair, the conference programme is also one of the main pillars of MEDICA. The schedule for these has now been set for 2019. To name a few, DiMiMED, the conference for disaster and military medicine will take place in the Congress Center Düsseldorf (CCD Süd) on 18 and 19 November and the MEDICA Medicine + Sports Conference (20 and 21 November) will focus on aspects of prevention and sports medicine treatment concepts.
The 42nd German Hospital Conference, a leading communication platform for decision makers from hospitals, primarily addresses a German-speaking specialist audience (18 to 21 November / CCD Ost) as does the MEDICA Physio Conference. With its treatment-oriented presentations, it is directed towards the professional scene of physiotherapists, sports medicine specialists and orthopaedists (20 and 21 November 2019 / CCD Süd).
Compamed 2019 will also take place alongside MEDICA 2019, on all four days (18 to 21 November) in Halls 8a and 8b. With around 800 exhibitors, Compamed is the leading international market platform for suppliers of the medical technology industry. Last year's MEDICA and Compamed counted a total of 120,116 trade visitors from 155 countries.
Source: MEDICA/Messe Düsseldorf