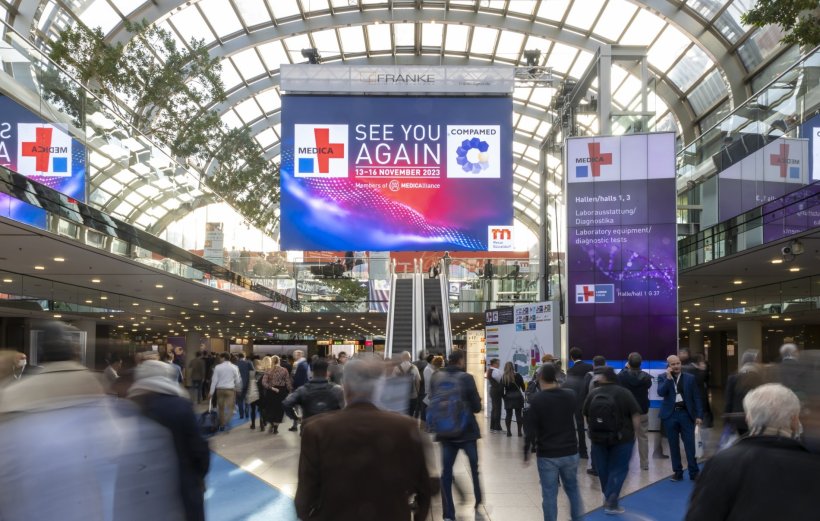 Photo: Messe Düsseldorf / ctillmann
News • Tradefair presence
Wallonia: innovation hub for European medtech at Medica 2023
The Wallonia Export & Investment Agency welcomes the entire spectrum of the MedTech Industry on the Belgium Pavilion at Medica 2023 and invites all visitors to meet founders from businesses who will share their views on scaling strategies, winning business in the healthcare sector, and the importance of tech advancements for detecting issues early and overall patient care.
With 200 companies and close to 17,000 jobs, the medical device industry in Belgium is one of the most active and innovative in Europe. Medical equipment and systems, in vitro diagnostics, implantable devices, e-health, medical consumables: the medtech industry is a diverse and evolving sector that continues to thrive in Wallonia, and in Belgium in general, as demonstrated in the beMedtech 2022 industry report.
With a yearly turnover of €3.4 billion (not including export), the medtech sector represents over 500,000 technologies with 200 medtech companies in Belgium. By producing and exporting 700 million doses of Covid-19 vaccines to the rest of the world, Belgium demonstrated its leadership and expertise in health and innovation in recent months.
Vision
Wallonia is being recognized internationally for its world-class academic, clinical and industrial research environment in the field of Life Sciences. The competitiveness of the Walloon Life Sciences industry is continuously being strengthened, and the Region will be one of the world's largest hubs in research, development and industrial production of vaccines and biologics by 2025.
Investments
The innovation path in medtech is shaped by the constantly evolving technologies and by the continued investment, to ensure that patients have access to novel therapeutics and diagnostics solutions: 35.8% of companies invested over €2 million each during 2017-2021, setting up one or more medtech or IVD activities in the country; almost 30% are committed to investing more in the next five years.
Belgium, and Wallonia in particular, is represented by a strong network of highly skilled companies, one of the most flourishing in Europe. International groups, SMEs and startups can benefit from the dense and well-developed ecosystem that Wallonia's Health Cluster BioWin nurtures.
With 24% of the publicly listed European life sciences companies in Belgium, with an outstanding logistics infrastructure, the Wallonia Export & Investment Agency invites all visitors to connect at Medica 2023 to have dedicated conversations with Medtech leaders and explore a wide range of innovative products and services, from cutting-edge medical devices to emerging digital health solutions. 
Wallonia's finest in Medtech are advancing health through innovation and collaboration. Visit Wallonia at the Belgium Pavilion – Hall 1 Stand F53, Hall 15 Stand B10 and Hall 8B Stand H33 (Compamed).
Source: Wallonia Export & Investment Agency