Maxi value in a mini machine
At first glance you think it's a futuristic washing machine, or maybe an oversized designer amplifier. Actually, you are looking at GE's Optima* MR430s. This is not only a real eye-catcher because of its exceptionally compact design (ever, for an MR scanner) but also due to the system's truly smart function and performance.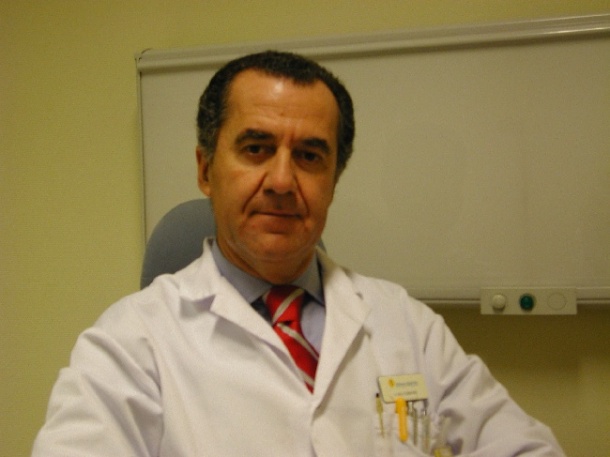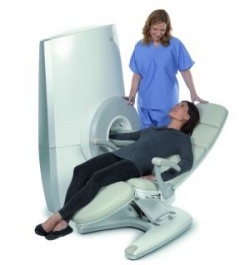 Enabling musculoskeletal imaging of only an arm or leg, the device not only saves space but also helps to remove the anxiety and discomfort often associated with full-body MR systems.
The Optima MR430s, GE's extremity MR scanner, moves from an overall picture to a more detailed diagnostic view of pathologies of formal and functional defects in bones, joints, muscles and tendons.
Comfortably seated on a chair, the patient puts his or her arm, leg or just wrist or ankle, into the 21cm diameter tube of the small 1.5 Tesla MR magnet. The Optima MR430s machine is so small in size that it only needs 10m² of space – i.e. 60 % less than a whole body scanner – and can pass through a standard door, which makes installation far easier and that means in almost any medical or clinical environment.
For users, the system's compactness presents greater mobility, accessibility and convenience, as confirmed by Dr Mario Padron, head of the radiology department at Clinica CEMTRO in Madrid, Spain, who is also chairman for the European Society of Musculoskeletal Radiology (ESSR) Sports Subcommittee. A year and a half ago he acquired the high-tech extremity MR scanner from the American MR provider ONI Medical Systems, Inc., which was subsequently acquired by GE Healthcare and re-branding as Optima MR430s. Since then, Dr Padron has used this scanner daily, now examining some 24 patients per day, many of them professional or amateur sportsman of all kinds.
MRI is increasingly important in sports traumatology, he points out. 'MR is the only imaging technology that can integrate the study of soft tissue – fascia, musculature, ligaments and tendons – and bone pathology. By doing so, it gives you a very accurate insight into all anatomical structures and a fast overview about lesions. Because it works without radiation exposure it has become an important tool for diagnosis as well as follow-up checks.'
However, patients with acute sport injuries generally face a long wait before they can have an MRI examination.
Due to the extremity MR scanner, Dr Padron has increased patient throughput and considerably reduced patient backlogs. In addition, patients are far more cooperative with this system, especially those who have difficulty laying still or feel claustrophobic in a whole body tube. 'The MRI room with the extremity MR scanner more looks like a normal doctor's office, with which patients feel more acquainted. Because the machine makes much less noise, they can talk with the radiologist during the examination, or hear music, or read a book. The examination time is the same as in a whole body scanner, about 15 minutes.'
Along with sports imaging and sport traumatology, other applications for the extremity MR scanner are currently being clinically investigated, in rheumatology, for example, at the Leiden University Medical Centre, in the Netherlands.
Dr Padron believes that the introduction of dedicated MRI systems -- e.g. for the extremities, breast or head -- will mark the beginning of a spate of further follow-up models on the market because they are smaller and enable far more cost-effective imaging procedures in a variety of patient care settings. Given his experience with the extremity MR scanner, he is already planning the installation of a second machine in the new emergency department at Clinica CEMTRO in Madrid.

* Optima is a trademark of General Electric Company

More on the subject:
More on companies: