Resistance
Last resort antibiotic under treat
Data presented at the European Congress of Clinical Microbiology and Infectious Diseases diseases has highlighted how a recently-discovered mechanism could mean one of the last-resort antibiotics is under threat. Evidence put before ECCMID suggested the genetic mechanism allowing bacteria to develop and transfer resistance to colistin has been present in several countries around the world – including in Europe - for the past 10 years.

Report: Mark Nicholls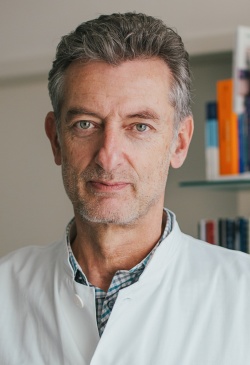 The Amsterdam conference organised by the European Society of Clinical Microbiology and Infectious Disease (ESCMID) and held from April 9-12, is the world's largest congress focused on infectious diseases and clinical microbiology. It heard findings from researchers on the prevalence of the mcr-1 gene, a transferable genetic mechanism of antimicrobial-resistance to colistin, in various bacteria including Enterobacteriaceae such as Escherichia coli, Salmonella or Klebsiella.
The subject of colistin resistance was among two special tracks opened for late-breaking abstracts on topics that are of high scientific importance and relevant on a global scale. (The other was migrant health).Infectious disease specialists are becoming increasingly concerned about the increased prevalence of plasmid-mediated resistance as it threatens to reduce options to treat infections and is creating new resistant bacterial strains.
Scientists say the mcr-1 gene is particularly significant as it can be carried by plasmids, small DNA molecules, which can be transferred between single-celled organisms, such as bacteria, through so-called horizontal gene transfer. These genes can then be transferred sideways to other strains or species, not just vertically down to the offspring by replication. Horizontal gene transfer is the primary reason for antibiotic resistance. The mechanism was first discovered in an E. coli strain from a pig in China in November 2015 but more recently has been identified in bacterial samples across the world.
The key late-breaking data presented at ECCMID focussed on a number of European studies and also work carried out in Asia and also saw scientists present evaluations of treatment and management options, as well as new diagnostic methods and assays to help identify mcr-1.
The key studies were:
Results from a study which evaluated the prevalence and evolution of the mcr-1 gene from 2004-2014 in E. coli and Salmonella samples isolated from food-producing animals showed that the gene has been present in animals for more than a decade and has already spread across Europe. However, the researchers did not observe a trend towards an increase in the mcr-1 prevalence during the 10-year period studied;
A study from the Netherlands found that the antibiotic resistant gene mcr-1 was not identified in human Salmonella, but was retrospectively detected at low levels in Salmonella from poultry sources (1%), as well as in E. coli from faeces of Dutch livestock (0.3%) and retail meat (1.7%). The authors concluded retrospective screening with selective isolation procedures is needed to assess the current spread of the gene in bacterial populations from animal sources;
Researchers undertaking whole genome sequencing from 600 Enterobacteriaceaeisolates from different sources (humans, livestock, companion animals, environment) in Germany found that the resistance gene mcr-1 has been present since at least 2010;
*In a Dutch study evaluating 624 faecal samples from patients admitted to a tertiary hospital, researchers observed the mcr-1 gene at a low prevalence of about 0.3% within the Dutch population. However, the presence of the mcr-1 gene did not result in a colistin-resistant phenotype, and was found in ESBL-negative E. coli isolates that contained a plasmid-mediated enzyme;
A global study evaluating the prevalence and presence of the mcr-1 gene in Enterobacteriaceae and the diversity of its isolates – giving an indication of the rapidity of the gene's spread – found ESBL isolates carrying the mcr-1 gene in travellers returning from three different continents. The findings suggest a horizontal transfer is likely across many clones, that it has efficient transposition mechanisms and a promiscuous spread of the mcr-1 gene;
In a study examining the quality of colistin-resistance detection methods, the authors showed that automated systems underestimated colistin resistance in 19% of a sample of carbapenem-resistant Klebsiella pneumoniae (KPC) strains and concluded this underestimation may lead to major errors in clinical interpretation and cause therapeutic failure;
In other studies researchers validated a newly developed real-time PCR assay for the detection of mcr-1, which may facilitate rapid mcr-1 identification in stool specimens and could help improve clinical management and infection control, while an Indian team evaluated the molecular characteristics of colistin resistance in Klebsiella pneumoniae.
A Malaysian study which evaluated mcr-1 detection in Enterobacteriaceae supports the evidence that the detection of the mcr-1 gene in colistin-resistant Enterobacteriaceae may be useful for rapid detection in clinical isolates, while a study of 344 Chinese and 145 European individuals examined the current prevalence of the mcr-1 gene in the human gut microbiome.
ECCMID Programme Director Professor Winfried Kern said: "The mcr-1 gene has recently taken centre stage in the on-going fight against antibiotic resistance as we are concerned that this colistin resistance mechanism may be transferred between different bacterial species. "The antibiotic colistin is in some cases already the only treatment option clinicians have left. Today's research gives some indication of its prevalence, its spread and its genetic diversity, adding further data on its role and transference. Understanding the spread of mcr-1 and the underlying resistance mechanism will allow us to develop more effective diagnostics, treatments and stewardship programmes to better manage infections caused by multi-resistant pathogens."