Laboratory challenges in disasters and world tragedies
Karoline Laarmann reports
This May, IFCC WorldLab Berlin with its manifold scientific programme gives clinical lab physicians the opportunity to see over the rim of the tea cup of their working field. Within the congress theme 'Healing the world' comes an exciting lecture on laboratory work in third world countries and disaster areas.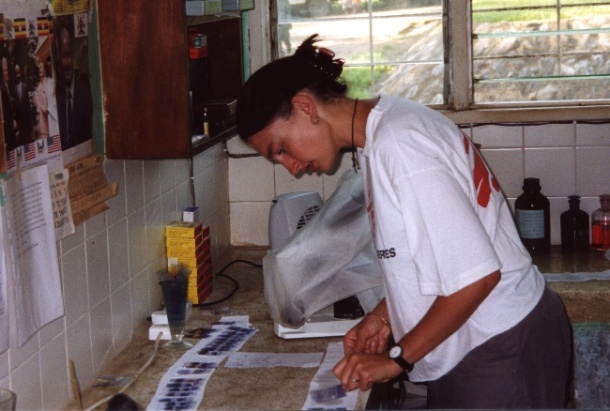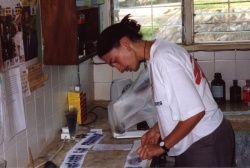 Speaking of the challenges and issues affecting laboratory analyses in resource limited settings, Dr Cara Kosack, head of the Médecins Sans Frontières diagnostic network, emphasised: 'Laboratory resources needed to address unanticipated disasters.'
When studying medicine in Hamburg, Germany, Dr Cara Kosack took one semester off to join Médecins Sans Frontières (MSF) on a six-month mission in Uganda, where she became involved in setting up a laboratory at a health centre and coordinating a field study to evaluate the efficacy of antimalarial drugs in children. Missions followed in Sierra Leone, Ethiopia, Pakistan and Zimbabwe, before she took up medical coordination at the MSF headquarters. From 2007 she has led the laboratory and diagnostic imaging working group in Amsterdam, the Netherlands, which also involves the coordination of lab activities in the organisation's five European headquarters.
MSF is now active in more than 65 countries. Along with medical help during chronic conflicts as well as the care given to neglected populations, emergency response is yet another activity -- as occurred after Haiti's devastating earthquake that destroyed great tracts of the country and killed more than 200,000 people. Although lab procedures performed during disease outbreaks are quite different from the emergency needs in Haiti, emergency response management is similar.
MSF also deploys pre-packed laboratory modules that can be flown to disaster zones within hours. These contain, for example, blood transfusion kits that include blood group reagents, screening tests for infectious diseases in potential blood donors, centrifuges, a water bath for blood cross matching, and refrigerators. 'Blood donations can be problematic in disaster zones, not only due to limited access to equipment and a power supply, but also because of cultural differences', Dr Kosack explained. 'In African and Asian countries there are many cultural misconceptions about blood transfusion, so we often need to educate the population on the need and "side effects" of blood units first.'
The kinds of disasters vary as much as the contents of the pre-packed packages available for meningitis, malaria, cholera etc. Depending on need, a module or combination of modules can be selected.
Many tropical diseases faced by MSF aid workers show similar, nonspecific symptoms, such as fever, headache or general weakness in patients. Therefore, the list of differential diagnoses is long and a variety of blood tests is needed, commonly using microscopy and lateral-flow immune absorbent assays, also known as rapid diagnostic tests; depending on the disease, these are now very accurate. However, none is a 100% perfect. 'A lot of machines used in Western lab settings need constant electricity and are very sensitive to outside influences, such as heat or dust. So it's often impossible to sustain these systems in resource limited settings, not to forget the need for highly qualified staff,' Dr Kosack pointed out. 'That's why we try to achieve easy, affordable diagnostics that can be carried out not only by a trained lab technician but also by nurses.'
Lost time can costs lives, so the team often needs to start medication according to a presumptive diagnosis, initially based on the clinical picture and then on diagnostic test results retrospectively. This is particularly true for the early diagnosis of HIV in children under 18 months. For these babies, regular antibody testing cannot be carried out because they might still have antibodies from their mothers. In such cases, polymerase chain reaction (PCR) testing is needed, which involves samples being sent away to a reference lab for analysis. If the first result is positive, according to the WHO guidelines, the test is confirmed with a second sample, so the complete process takes weeks.
Before a particular diagnostic test is routinely implemented into MSF laboratory work, it is very closely scrutinised. Dr Kosack and team meet regularly to discuss new diagnostic tools on the market, the performance of the regularly used tools and current and new policies in lab testing. 'We carry out literature reviews on diagnostic test accuracy evaluations from other researchers, or conduct our own in vitro studies by comparing the test of interest to a gold or reference standard,' Dr Kosack explained. 'Depending on our conclusions, we either decide for one diagnostic test method or a combination of several. For example, for HIV the use of two tests is recommended: a very sensitive test combined with a more specific test. Depending on country policy, we then carry out a third more complex test for confirmation.
'In Human African trypanosomiasis (sleeping sickness/HAT) the diagnostic tree is even more complex and a number of tests is required to come to a diagnosis, proper staging and post-treatment monitoring of the disease. We use a screening test first and then move on to different methods for parasite detection and ultimately examination of cerebrospinal fluid for disease staging in order to decide on the right treatment strategy.'
On Dr Kosack's 'wish list' is greater effort from the biotech industry to develop simplified diagnostic tools, such as more sensitive and specific RDTs and simplified point-of-care clinical chemistry systems similar to the glucometers used daily by diabetics in the West. The need is big for quick, reliable tools from which millions of people could benefit every day.