Exhibition
JIB 2016 - new collaborations, new place, new dates...
The Syndicat des Biologistes (SDB) and the Syndicat National des Biologistes des Hôpitaux (SNBH) are refounding the leading event in Medical Biology: the 60th edition of JIB and the 45th Colloque National des Biologistes will be held this year in Paris Expo Porte de Versailles, Hall 4.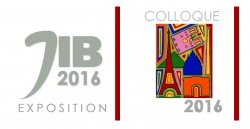 The Exhibition and the Colloquium will take place on Wednesday 22 to Friday 24 June 2016.
JIB/ACNBH 2016 is a major event for all French and European actors of private and hospital medical biology.
Thanks to its Exhibition and its Colloquium, this new edition will:
BRING TOGETHER…
... All the actors of medical biology
EXPOSE...
... The expertise of medical biology
UNCOVER...
... New scientific knowledge, health policies and issues of biomedicine research
128 exhibitors of the field will expose, including Biotechnology, In Vitro Diagnostic, small equipments and IT laboratory companies...
Meanwhile, the Colloquium provides an opportunity for hospitals and private medical biologists, to update their scientific knowledge, learn more about the evolution of their business and daily practice during the 3 days of a scientific and professional program.
Registration on www.jib-sdbio.fr!