Source: anyaivanova / Shutterstock
News • Artificial intelligence
UK Government and Philips consortium co-invest in digital pathology
Royal Philips has been leading two healthcare innovation projects that will receive government investment as part of major cross-sector collaborations with the NHS, academia and industry partners from the Government's Industrial Strategy Challenge Fund, delivered through United Kingdom Research and Innovation (UKRI). A joint multi-million pound investment by government and industry partners, the initiative will fully digitise a number of NHS pathology laboratories, expanding access to innovative digital pathology services in the UK.
The digitisation of pathology services by Philips will accelerate the development of novel artificial intelligence (AI) software to support cancer diagnostics: a key strategic goal of the programme and one which will be led by the NHS and Philips. Building this unique digital infrastructure will allow the UK to lead globally in the development and adoption of AI in health, meaning improved patient care through better and faster cancer diagnostics and treatment.

"Philips has been fully invested in the Government's Life Sciences Industry Strategy from the outset and now has two opportunities to build strong partnerships that will drive improved patient care in the UK for years to come," comments Neil Mesher, CEO for Philips UKI. "Philips sees this as not only an opportunity to invest in improved and earlier diagnostics for patients via AI in pathology services but also as a new day for collaborative, cross-partner working that will ensure a future-proofed, world-class NHS. We are honoured to be part of what will undoubtedly be an exciting three years in digital diagnostics and personalised medicine discovery."

Philips will be the principal partner on major cross-sector collaboration project PathLAKE (Pathology image data Lake for Education, Analytics and Discovery) which has received £10m of government funding to develop innovative AI in pathology. Project PathLAKE partners from University Hospitals Coventry and Warwickshire NHS Trust and teaching hospitals and universities at Warwick, Belfast, Oxford and Nottingham will embed and demonstrate the diagnostic efficiency of digital pathology, computer aided testing of pathology samples, and develop novel AI tools to personalised medicine by selecting the right patients for the best therapy.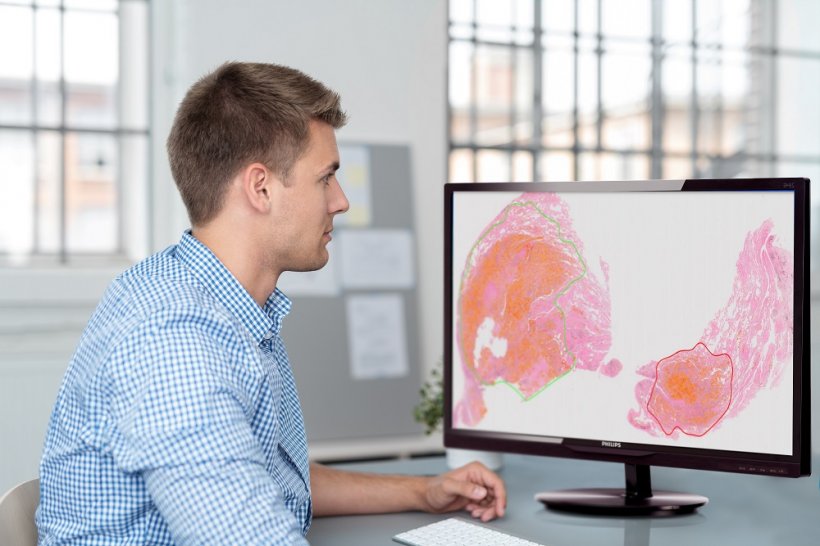 The project will create a secure data-lake of tens of thousands of professionally annotated images for building deep learning algorithms that can automatically detect cancer. These images and tools will be made available across the consortium including a growing number of SME partners in this sector to develop AI to overcome burgeoning workloads in the UK and establish a world-leading UK digital health industry.

"Increasing access to a vast amount of image information and applying analysis of the kind that PathLAKE will deliver will move diagnostic evaluation to new depths," comments Professor David Snead from University Hospitals Coventry and Warwickshire NHS Trust. "These technologies will be key to our understanding and utilisation of clinical information. The knowledge PathLAKE will unlock, both in the short and long-term future, will completely change cancer care in the NHS while embedding a world-leading life-sciences and technology sector in our health system."

"Digital Pathology and AI has the potential to drive huge improvements in cancer precision diagnostics and therapeutics" says Professor Manuel Salto-Tellez from the Precision Medicine Centre at Queen's University Belfast. "I look forward to working closely with Philips to develop novel algorithms that are easy for pathologists to access and which we believe will improve targeted therapy and immunotherapy, and allow cancer patients live longer and better lives".
Philips will also be investing in Glasgow's Queen Elizabeth University Hospital as part of project iCAIRD, a pan-Scotland consortium led by the University of Glasgow and comprised of partners across the NHS, academia and industry. Project iCAIRD (Industrial Centre for Artificial Intelligence Research in Digital Diagnostics) will develop an infrastructure whereby AI researchers can assess digital diagnostics, pathology and radiology data within existing national initiatives by fast-tracking the digitisation of the comprehensive Scottish NHS pathology data. This will create one of the largest fully digitised pathology laboratories in Europe.

The project will establish a national pathology image archive as an open-standard, accessible and scalable resource available to support research and innovation in cancer across the UK. Philips will provide AI tools, software and expertise to accelerate development of deep learning, and drive innovation. Philips digital pathology technology together with AI will be used by clinicians to help facilitate earlier and more definitive diagnosis of gynaecological cancers, a complex area where accelerated diagnosis, reduction in diagnostic variation and automated reporting could help overcome today's challenges and improve patient outcomes and survival rates.

At Queen Elizabeth University Hospital, we're committed to providing the best possible care for our patients," said Gareth Bryson, pathologist. "We've already been working with Philips to develop a national digital pathology programme and this welcome investment will help us, along with industry partner support, to improve the speed, efficiency and specificity of vitally important artificial intelligence applications, so our staff can be confident in offering patients the best treatment as soon as possible."

Both projects are three-years in duration and initial activities will begin in December 2018. For more information on Philips in digital pathology please visit www.philips.co.uk/innovate.

Source: Royal Philips