Korea is Asia's fastest-growing medical technology market
Since opening as an exhibition in 1980, to stimulate the non-existing domestic medical device industry, the Korea International Medical & Hospital Equipment Show (KIMES) has developed to become one of the most important exhibitions for medical and healthcare industries in Northeast Asia.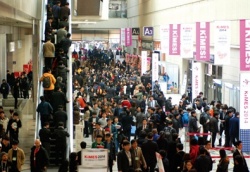 In mid-March, when the 30th KIMES, organised by KOREA E & EX, Kmdica, and KMDIA drew more than 70,000 domestic buyers and 3,000 foreign buyers from 70 countries to Seoul, there was a notable rise in numbers from 2013 – when 68,203 visitors including 2,804 international buyers were registered.
Nearly 1,100 international medical firms – mostly medical equipment manufacturers – came from 38 countries including, the USA - 99, China -124, Germany - 77, Taiwan - 47, Japan - 68, Switzerland - 21, and Italy -19, to demonstrate over 30,000 medical, hospital and healthcare related products.
The range of exhibits at KIMES included consultation and diagnosis central supply, clinical examination, hospital accommodation, emergency equipment, radiology, medical information system, surgical apparatus, oriental medicine, cure apparatus, pharmaceutical, physiotherapy apparatus, obesity cure, healthcare, ophthalmic apparatus, medical device components, medical service, dental apparatus, disposable apparatus, and more.
During the four days, among almost 100 medical science and academic seminars and conferences were the International Radiologist Conference and the Seoul Physical Therapist Association Conference, as well as seminars on medical industry policies, medical staff, the industry and science, and a global trade conference.
The KIMES exhibition contributes significantly to exports as well to the export substitution effect in Korea. This year, KIMES is expected to make KRW 1.6 trillion domestic consultations and $510 million from export consultations.
KIMES has come a long way and continues to progress into global markets, paying attention to countries where medical industry development is further expected. A global network has been built up with overseas associations, related organisations, or KIMES' overseas agents in America, Europe, Southeast Asia, the Middle East and more.