GE introduces Giraffe Stand Alone Resuscitation System
The new System integrates life-saving resuscitation capabilities and enables flexible respiratory support across perinatal care areas
GE Healthcare yesterday announced the availability of the Giraffe® Stand-Alone Infant Resuscitation (STAR) System, which integrates critical capabilities to enhance effective resuscitation of newborns.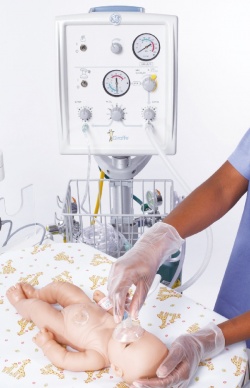 The technology's portable design enables respiratory support throughout the perinatal care area—from Labor & Delivery to the well-baby nursery and Neonatal Intensive Care Unit (NICU). The Giraffe STAR system is featured alongside other GE Healthcare advances at MEDICA 2012 (Booth: Hall 10/A56).
Approximately 15 percent of neonates require respiratory support at birth, with pre-term infants at increased risk.1 For affected newborns, clinicians using the Giraffe STAR system can now conveniently access integrated suction, blended gases and monitored positive pressure capabilities via a single, compact unit.
"The Giraffe STAR system puts essential therapies at a clinician's fingertips, enhancing efficiencies when life-saving care is required," said Nathalie Lecoq, Perinatal Care Solutions Europe General Manager at GE Healthcare. "By enabling continuous respiratory support from the moment of birth, the technology supports infant care wherever and whenever it is needed."
The infant resuscitation system can be used during high-risk deliveries, transport and bedside caregiving. It can be easily mounted alongside any warmer, incubator or hybrid bed. For instance, caregivers can quickly attach the Giraffe STAR system to the GE Healthcare Giraffe and Panda beds, Giraffe OmniBed, as well as the Giraffe Shuttle. By combining these technologies, GE Healthcare can give clinicians quick access to essential resuscitation equipment when moving the baby within the hospital. This can enable the infant to remain in the same bed throughout the continuum of care, aligning with the GE Healthcare "One Baby, One Bed" developmental care model.
The Giraffe STAR System supports both T-piece and Bag-and-Mask resuscitation configurations, effective airway management with fully integrated suction, monitored delivery of positive pressure during ventilation and blended Air/O2 gas delivery. Additionally, caregivers can monitor pulse rate and oxygen levels when the Giraffe STAR system is used with an external SpO2 module. These capabilities are designed to meet the latest International Liaison Committee on Resuscitation (ILCOR) recommendations. The Giraffe STAR system is now available in the European Union. For more information, go to www.gehealthcare.com.
More on the subject:
More on companies: