GE Healthcare launches Global initiative for digital mammography
In addition to being Breast Cancer Awareness Month, this October is the tenth anniversary of digital mammography, a technology introduced by GE Healthcare in 1999.  Similar to digital photography, digital mammography replaces the film used in traditional mammography with digital files viewed and stored on computers.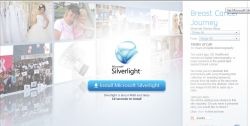 To commemorate the anniversary and long standing commitment to fighting breast cancer, GE Healthcare has created a digital wall of personal stories from those whose lives have been touched by breast cancer, as well as doctors, scientists and fundraisers who work tirelessly against the disease. Visit the wall at www.breastcanceremotion.gehealthcare.com
Around 30 patients, survivors, fundraisers and medical professionals from around the world are the foundation of the first phase of the GE Healthcare's wall. The company hopes that the wall will grow rapidly and become a global platform for survivors, innovators and charities to share their stories, provide additional information on technology milestones and successes and empower others impacted by breast cancer.
"Our initiative shows that breast cancer is indiscriminate. It affects women, and also men, irrespective of their age, nationality and religion. We want people to get involved and share their story. Today, they can do that by clicking the "share" icon on the wall and share their experience, knowledge and hope with others" said Wendy Harris, Strategic Marketing Leader, Women's Health at GE Healthcare.
"I hope to see it grow rapidly in size to become a definitive hub for empowering stories; how survivors have fought and overcome the disease, as well as profiling the doctors, and scientists who are working tirelessly – often behind the scenes", continued Harris.
Starting in Canada, the site visitor will meet Sylvia Soo and her personal story battling breast cancer at a young age. A fly over to Asia will take them to Andra Pradesh in India, where Dr. Raghu Ram, after a successful career in the UK, returned with the mission to improve the delivery of breast cancer at home. Back in Europe, the visitor will tour Belgium where a "Mammobiel" is providing breast scans in rural areas. These are just some of the "journeys" that the site visitor can make, meeting those who are fighting breast cancer and creating awareness today.
Pioneering the development of advanced breast-imaging technologies
GE Healthcare has been a leader in the field of breast cancer detection through mammography devices since the 1960s. In 1999, GE Healthcare was the first company to introduce full-field digital mammography (FFDM). GE Healthcare estimates that since then, it is more than 20 million women who have benefited from its diagnostic imaging technologies worldwide. The company has spent 13 years and more than $100 million developing the full-field digital mammography technology, GE Healthcare Senographe® systems, and continues to invest heavily in new cutting-edge technologies to detect the pathology before the onset.
Today there are approximately 14000 GE Healthcare mammography systems in use worldwide -- more than any other brand. In August this year, healthcare technology research organization KLAS ranked GE Healthcare Senographe DS as the best digital mammography system on the market today, based on a survey of healthcare providers.
Through its own research as well as partnerships with other industry innovators, GE Healthcare is continuing to bring to market advanced technologies that will help improve detection and reduce unnecessary biopsies in the future, including a magnetic resonance imaging (MRI) system specifically designed for breast imaging; and tomosynthesis -currently under clinical investigation- which generates three-dimensional images.
More on the subject:
More on companies: