GE Healthcare Launches Discovery PET/CT 600
GE Healthcare showcases its intelligence in PET/CT technology by introducing the latest addition to its PET/CT family, the Discovery PET/CT 600 at the 94th annual Radiological Society of North America annual in Chicago.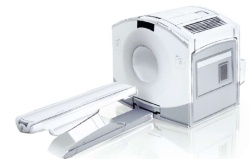 Recently launched at the European Society of Nuclear Medicine in October, the Discovery PET/CT 600 is part of GE's Discovery family of scanners designed to enable earlier detection and accurate monitoring of disease with leading molecular imaging technology in both hardware and software.
Continuing its focus on creating clinically-relevant imaging technologies, the Discovery PET/CT 600 advances MotionFree technology, using high-sensitivity scintillators, ultra-fast reconstruction enabled by the IBM BladeCenter®, and the high-speed, high-resolution capabilities of the GE LightSpeed CT technology.
"Our drive is to give clinicians the most clinically-relevant tools possible," said Henry Hummel, general manager of GE Healthcare's global PET/CT business. "We focus on advancing the state-of-the-art for clinicians and researchers. MotionFree is a series of technologies that make accurate lesion detection easier, making it possible for breakthrough PET/CT to be used by more and more physicians. We've also raised the bar with, optimized workflow and simplified calibration, making owning a Discovery PET/CT 600 a smart and efficient choice for a huge number of hospitals and clinics."
For clinicians, the Discovery PET/CT 600 will provides a full 70cm PET and CT Field-of-View and a patient table capable of holding patients up to 500 lbs. The GE Discovery PET/CT 600 also offers an increased vertical scan range that provides more flexibility in patient positioning for radiation treatment planning
For administrators, the new scanner offers several key advantages, including extremely quick start-up time and faster image reconstruction, allowing for more efficient workflow.
Additionally, the IBM BladeCenter offers enormous opportunity for upgrades in the future. The BladeCenter was designed in collaboration with IBM for this first-ever application in a PET/CT scanner.
"Discovery PET/CT 600 is another step in our pledge to create products that help doctors in every aspect of their practice," said Hummel. "Clinical and economic, we've done our best to deliver on what our customers tell us they need."

More on the subject:
More on companies: