GE Healthcare expands expertise in mammography
GE Healthcare recently acquired Image Diagnost International GmbH, an IT provider specialised on developing integrated software solutions for mammography workflow and image processing. With this acquisition GE Healthcare expands its capabilities in offering clinicians and national screening services an even more expanded portfolio for the detection of breast cancer.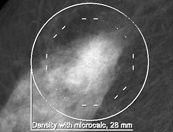 "Image Diagnost and GE Healthcare have a shared vision on how best to accelerate the adoption of digital mammography and to harness the benefits that the new technology brings to the diagnosis and detection of breast cancer. Image Diagnost has a strong track record of customer-focused innovation, demonstrated by the rapid and widespread acceptance of their products by leading European hospitals and breast cancer screening services," comments David Caumartin, General Manager of GE Healthcare's Mammography business.
Image Diagnost was founded in 2005 and has grown rapidly in Germany with over 150 installations of its unique solutions. GE Healthcare's plan is to develop Image Diagnost's facility in Munich, Germany, into a centre of excellence in breast cancer detection software.
"The combination of GE Healthcare's skills in the development of imaging equipment together with the expertise of the team at Image Diagnost is a major step forward in assisting hospitals worldwide to use digital mammography to its full potential. Expanding GE Healthcare's expertise in this area supports our Early Health objective of developing tools to help doctors diagnose and treat disease earlier," adds Caumartin.
"We are very excited to be part of GE Healthcare. The additional resources that GE Healthcare brings will allow us to accelerate our development programs and bring our products to a much wider customer base. The combination of the two companies will bring substantial benefits to hospitals, screening services and women's healthcare worldwide," Dr Wilfried Schneider, founder of Image Diagnost, concludes.
More on the subject:
More on companies: