For and against - Absorbable metal stents
By Dirk Boese MD, with S Sack MD and R Erbel MD, of the West German Heart Centre in Essen, and Cardiology Department at the University of Duisburg-Essen, Germany.

Coronary stents provide wall wrapping of dissection, prevent elastic recoil, and reduce restenosis after percutaneous transluminal coronary angioplasty. In addition, drug eluting stents loaded with antiproliferative agents inhibit intimal hyperplasia and offer a further reduction of restenosis.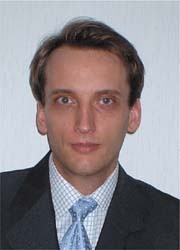 But stents are foreign bodies ('metal jackets') that transform elastic vessels into rigid tubes, impair vasomotion, and, due to the potential risk of even late thrombosis, require long term antiplatelet treatment.

To overcome limitations of current stent technology, a magnesium-based absorbable metal stent (AMS-stent) was developed in Berlin, by Biotronik GmbH & Co, and successfully tested in animals and below the knee interventions. The magnesium stent provides vessel scaffolding within the first weeks after implantation and is completely absorbed within eight weeks before long term complications may occur.

The efficiency of absorbable metal stents in the treatment of coronary artery stenosis was determined in the PROGRESS-AMS (Clinical Performance and Angiographic Results of Coronary Stenting with Absorbable Metal Stents) clinical trial. Seventy-one stents (3.0 - 3.5mm in diameter) were successfully implanted in severe coronary stenosis of 63 patients (mean age 61.3 ± 9.5 years). Procedural success could be achieved in all patients and the diameter stenosis could be reduced from 61.5% (±13.1%) to 12.6% (± 5.6%). During implantation, the stent characteristics were comparable to stainless steal stents (elastic recoil ~ 7%) and no MACE (Major Adverse Cardiac Events) were observed during hospital stay. After four months, the ischemic driven revascularisation rate was 23.8% and therefore comparable to conventional stainless steal stents. Intravascular ultrasound (IVUS) examination during four months follow-up demonstrated an advanced absorption process with only small 'stent remnants'. In the 12 month clinical follow-up period no stent thrombosis was observed.

This study is the proof of concept that biodegradable magnesium stents can achieve an immediate result similar to the result of other metal stents and be safely degraded after four months. Nevertheless, the restenosis rate remains high and modifications of the stent characteristics, i.e. prolonged degradation and/or drug elution are objects of further development addressing the problems of excessive recoil and proliferation.

Due to reduced radiolucency of the used magnesium alloy, the AMS-stent cannot be visualized by X-ray and induces no metallic artifacts during assessment with computed tomography and magnetic resonance. This characteristic allows the non-invasive assessment, even of the stented segment, after implantation of an AMS-stent and gives new opportunities in the follow-up examinations after coronary artery interventions.
Contact for references and further details: Dr Boese. +49-201-7234888
e-mail: dirk.boese@uk-essen.de