Ever expanding rapid diagnostic products
Inverness Medical Innovations develops and manufactures rapid diagnostic products for use in preventive as well as interventional therapies.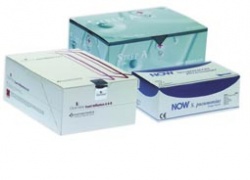 Information from patients' body fluids, or tissue, assists physicians to diagnose disease, as well as to measure a patient's response to a specific therapy. Its range of clinical diagnostic products already includes, the well-known brands Clearview, Inverness Medical TestPack, Binax, Determine, BioStar, and many others. 'Our high quality immunoassays in pregnancy testing and fertility, respiratory, enteric and infectious diseases, autoimmune disorders, osteoporosis, cancer and cardiology, have demonstrated proven efficiency in clinics, hospitals and laboratories internationally,' the firm points out.

Currently, Inverness Medical Innovations reports that it is exploring opportunities to optimise the use of its technologies, as well as continually evaluating other technological advances, for development or acquisition, in a variety of medical/health areas.