European Congress of Radiology (ECR) 2012 opened
The European Congress of Radiology (ECR), the annual meeting of the die European Society of Radiology (ESR), started on Thursday in Vienna. 20,000 visitors are expected to participate in the congress which is one of the largest healthcare events worldwide.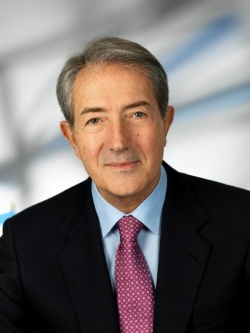 This year's programme will focus on emergency radiology and oncologic imaging. "We want to promote the multidisciplinary exchange and the cooperation with these important areas of radiology", underlined Professor Dr Lorenzo Bonomo, Congress President and Chairman of the Departments of Radiological Sciences and Bioimaging at A. Gemelli Hospital in Rome. At the opening press conference, however, other topics took centre stage.
One was the role of radiology in AIDS/HIV. While on the one hand the number of opportunistic infections has decreased significantly thanks to the new antiretroviral therapies, on the other hand increasing numbers of neurological and cognitive disorders are being recorded since HIV attacks the brain within days of the infection and settles there.
"Radiologists have to be aware of the changing pathologies in order to be able to directly detect not only sub-clinical manifestations of the HIV infection in the brain but also therapy-related effects", emphasized Dr Majda M. Thurnher, Professor at the University Clinic for Radiodiagnostics at the Medical University Vienna. "In the course of the therapy lesions can tend to grow and can appear suspicious in an MR image", Thurnher explained, for example when the immune reconstitution inflammatory syndrome (IRIS) is present. The challenge for the radiologist, according to Thurnher, is to be able to differentiate between this syndrome, which is an overreaction of the immune system, and manifestations of the disease.
Another issue that continues to be hotly debated in the radiology community surfaced at the press conference: the value of breast cancer screening. "Breast imaging is associated with the risk of overimaging and overdiagnosis. Moreover even screening will never be able to detect all cancers", said Matthew G. Wallis, MB, ChB, FRCR, radiologist at the Cambridge Breast Unit and the NIHR Cambridge Biomedical Research Centre, and added that "this is always an issue of benefit versus damage.
" The question whether screening programmes for women under 50 years of age really lead to a decrease in the mortality rate, Wallis said, at this point cannot be answered conclusively. Surely, he added, more breast cancers would be diagnosed, the overall benefits for the population as a whole however cannot be predicted since the number of false positives will also increase - with all the financial and psychological consequences.
The European Congress of Radiology (ECR) 2012 in Vienna will run through 5 March. By Michael Krassnitzer.