Article • Digital Pathology
Europe's most advanced histopathology unit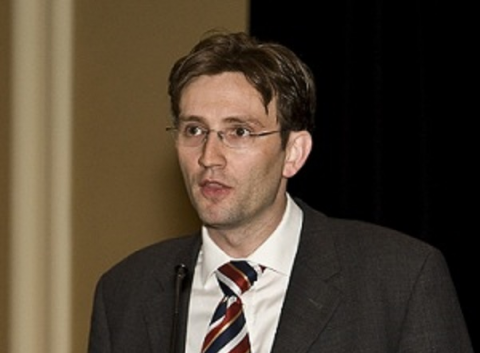 Among the earliest centres to embrace the concept of digital pathology, the Leeds Digital Pathology Project began in 2003 thanks to a Department of Health grant. Today the centre is Europe's largest.

Led by consultant histopathologist Dr Darren Treanor and covering research and clinical applications, the centre has eight scanners to scan 3-5,000 slides a month. It also has the world's largest digital pathology website, with 100,000-page requests in April 2017 and 10,000 visits a month (www.virtualpathology.leeds.ac.uk), and a slide library with 6,500 whole slide images. 'We believe we have the largest single site digital pathology installation in Europe, in terms of scanning instruments and scan throughput,' Treanor estimates.

The Leeds research covers two main areas: (a) supporting preclinical and clinical research with digital pathology offering scanning services, as well as some 3-D reconstruction and image analysis services for researchers; and (b) research into digital pathology.
The centre runs about 30 clinical trials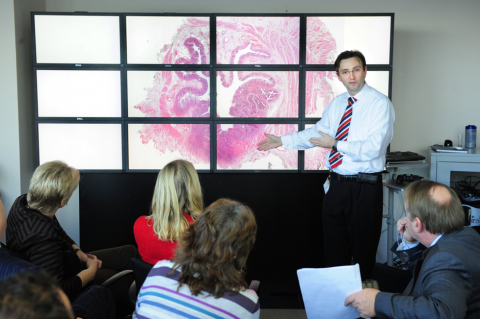 'We aim to understand and push the boundaries of digital pathology,' Treanor adds. 'Our research divides into technical innovations, having developed multiple systems at Leeds, and clinical applications where the team is interested in the adoption of digital pathology including understanding the barriers to adoption, and the safe uptake of digital pathology.' Work to perform the first syste­matic review of the accuracy of digital pathology led to follow on work from Dr Bethany Williams – the first digital pathology leadership fellow in the world.
With its early start, Leeds could lead the way in technical advan­ces and develop systems for several applications including: tissue microarray analysis; in-house image analysis; 3-D registration and reconstruction software; and systems for manual assessment of tumour stroma ratio (a web-based tool for systematic random sampling of virtual slides). The centre also developed colour measurement and a colour calibration slide for digital pathology in collaboration with a vendor, FFEI Ltd.
In 2016, we started a pilot deployment in breast pathology and have seen very reassuring results of this, with four pathologists using digital pathology for their diagnostic work.

Darren Treanor
'This is the only tissue-mimicking colour calibration slide available, a prerequisite for accurate colour calibration of digital pathology,' Treanor points out. However, the major development has been the Leeds Virtual Microscope (LVM). 'We identified a big pro­blem with digital pathology – that the software used to view images was 60% slower than the microscope.' Working with collaborators in the university's School of Computing (Professor Roy Ruddle), they set out to create a viewer as fast as a microscope. The successful output was software, licenced to Roche.

The LVM runs on systems that range from laptops, to high-definition medical displays, and 50 megapixel 'Powerwalls', used to train pathologists. It has been deployed across the Yorkshire and the Humber region's 16 pathology laboratories for pathology training.The LVM also won the Medipex innovation award for medical ima­ging in 2014.

The Leeds unit is nearing complete digitisation. In the university laboratory, virtually all research slides are scanned, and is now developing within the NHS department. 'In 2016, we started a pilot deployment in breast pathology and have seen very reassuring results of this, with four pathologists using digital pathology for their diagnostic work,' says Treanor. This year saw a partnership with Leica to deploy digital pathology for primary diagnosis across all clinical specialties. This involves 45 consultants, 30 trainees, 250,000 slides per year and 100TB of data. It also includes workshops about digital pathology, including laboratory implementation and clinical validation.

However, Treanor acknowledges there have been challenges over the years to digital pathology adoption, particularly in four critical areas: virtual slides were slower than the microscope; confidence in accuracy was not assured; the cost-benefit was not established; and pathologists were reluctant to adopt. For Leeds, LVM addressed the speed issue, and a systematic review showed that, while there have been many validation studies, the overall qua­lity of the evidence has not been uniformly high.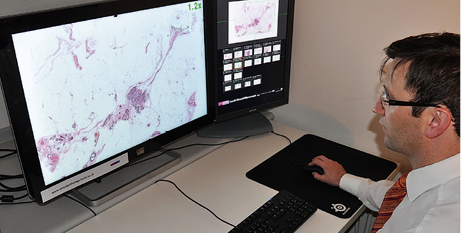 For Leeds, LVM addressed the speed issue, and a systematic review showed that, while there have been many validation studies, the overall qua­lity of the evidence has not been uniformly high. 'From this, we developed our own validation protocol that allows pathologists to learn by comparing the microscope and virtual slide over a period of several weeks during normal clinical practice. So far,' he adds, 'this has allowed us to be much more confident when diagnosing digitally.'

The team now plans to address the issues of cost benefit and wider adoption of the technology. 'Pathologists need evidence that it works,' Treanor remarks. 'If we can provide them with an effective user interface, good workflows, and assure them of diagnostic quality, while establishing the cost-benefit, we see no reason why Digital Pathology would not be adopted for clinical practice.' The Leeds team collaborates with a number of companies – Leica customers from the beginning; developing a colour calibration system for digital pathology imaging with FFEI Ltd; and selling the LVM system to Roche.
Considerable benefits and opportunities
'On the research side, it would be unthinkable to run a clinical research lab without digital pathology,' Treanor believes. The 'enormous advantages include workflow; archiving and image analysis 'On the clinical side, our breast pathologists report great satisfaction with their digital pathology adoption so far. They love the improved workflow, and the ability to work without glass slides. Ordering and reviewing additional stains, for example in immunochemistry, is much easier.'

From the university aspect, the team manages its own data storage, presently with about 160TB, with a large number of application servers hosting the different systems. Within the NHS element, they expect to produce 100TB of data annually, when the full deployment is up and running. However, he suggests the amount of data should not be daunting – when they began doing digital pathology in 2003, a 4TB system cost over £100,000. That amount of data can now be stored on a single disk drive.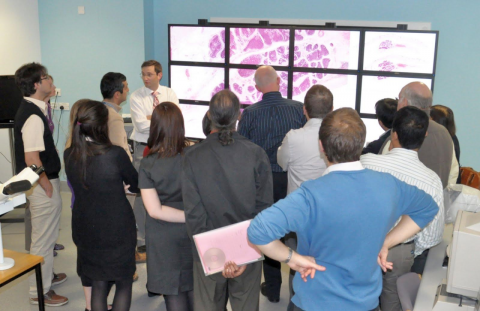 'A modern hospital should be able to handle large data sets and I'm confident that data storage requirements will become less of an issue as storage systems improve in future. Hospitals also need to understand that, while the data volume may be large, only a small percentage of that needs to be on fast storage systems and digital pathology is very amenable to inexpensive archiving solutions.' Sharing slides with other pathologists is a major part of the Leeds team's ethos and service. From its website, all educational and research slides are freely available for patho­logists, scientists, medical students and the general public.

On the clinical side, the system allows easy access over a secure VPN connection for Leeds pathologists to view the images remotely. Sharing work is a key benefit of digital pathology, he says, pointing to two benefits. We can give second opinions for colleagues in regional district general hospitals; but with digital pathology we can give feedback immediately, with live interaction. Secondly, as a large teaching hospital, we see opportunities to use digital pathology to share work around the region, ironing out peaks and troughs in our capacity and demand.'
Profile
Dr Darren Treanor is Consultant Histopathologist at Leeds Teaching Hospitals NHS Trust and Honorary Clinical Associate Professor at the University of Leeds,UK. He is also Guest Professor in Digital Pathology at Linköping University, Sweden, where he works with the university and hospital teams on digital pathology research in a well-established project where 100% of clinical slides are scanned.