ERC Advanced Grant for Professor Detlef Schuppan
Gastroenterologist of Mainz University receives the European Union's highest endowed research funding award
The European Research Council (ERC) has earmarked about €2.5 mio. to fund the research being conducted by gastroenterologist and biochemist Professor Dr. Dr. Detlef Schuppan at Mainz University Medical Center. Professor Schuppan is a specialist in liver diseases ranging from fibrosis to cirrhosis (the terminal stage of fibrosis) to hepatic cancer.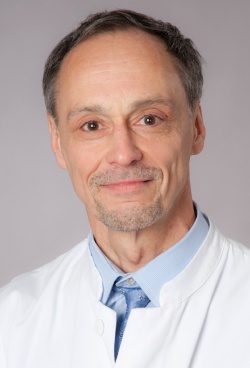 His aim is to develop therapeutic strategies that will slow or even reverse the pathological development of fibrous connective tissue in body organs. Many patients could benefit from this development, because the advanced stages of fibrosis are the main cause of death in those suffering from chronic hepatic diseases and other chronic conditions.
Continuous inflammation can lead to the abnormal growth of connective tissue in numerous organs, frequently resulting in organ failure. To date, however, there has been a lack of antifibrotic therapies for treating patients with diagnosed advanced-stage fibrosis. It is estimated that in Europe alone, 0.5-1% of the population are affected by end stage liver fibrosis, i.e. cirrhosis, a condition with a high risk of liver decompensation, liver cancer, and death.
"Developing a method in which the process of fibrosis progression can be measured in individual patients at-risk and for whom the effect of therapies to inhibit fibrosis progression or to induce its reversal can be assessed with high sensitivity and non-invasively is the key to effective treatments for advanced-stage fibrosis," explains Professor Schuppan convinced of the approach in his research. Schuppan is investigating the use of quantitative imaging procedures for fibrosis and fibrosis progression that is non-invasive and thus more patient-friendly, and which he hopes can be used to determine to what extent scar tissue is accumulating in the liver and to measure the amount and activity of the cells involved in scar tissue deposition in patients. He collaborates with Professor Dr. Frank Rösch and Junior Professor Dr. Tobias Roß of the Institute of Nuclear Chemistry at Johannes Gutenberg University Mainz. "This is thus a cooperative grant that is helping to build a bridge between the University Medical Center and fundamental research," says Professor Schuppan.
The results of pilot studies conducted by Professor Schuppan in collaboration with Dr. John V. Frangioni at Harvard Medical School have been positive to date, indicating that there is a good chance that the aims of the research project will be realized. With the aid of small, harmless quantities of radioactively-labeled substances, it has been possible to visualize and quantitate in vivo cell surface molecules that occur only on cells active in scar formation and thus indicate the activity of fibrosis progression. "These first pilot studies are highly promising and represent an excellent basis for developing a clinically applicable imaging method for diagnosing fibrosis and, more importantly, the dynamics of fibrosis progression. When further refined, this method may permit the clinical efficacy testing of antifibrotic therapies in only a few patients and for short time periods, instead of having to treat several hundreds of patients for 2-3 years, as would be necessary with the current technology. Furthermore, it would allow an individualized dose adjustment of such therapy according to the therapy response. Ideally, it should be possible to apply our research results to fibrotic diseases of other organs, such as pulmonary fibrosis," states Professor Schuppan, who has been working at the Department of Internal Medicine I of Mainz University Medical Center since the end of 2010. He previously held a professorship at Harvard Medical School and continues to be a faculty member there.
"The ERC Advanced Grant awarded to Professor Schuppan is confirmation of the effectiveness of our future-oriented hiring policy at Mainz University Medical Center. This grant is another key factor that will enable us to compete with other German as well as international major research-led universities," emphasizes Professor Dr. Dr. Reinhard Urban, Scientific Director of Mainz University Medical Center. Last year, Urban, in conjunction with Professor Dr. Peter Galle, head of the Department of Medicine I, managed to persuade Schuppan, who was born in Essen, Germany, to relocate from Harvard Medical School to come to Mainz.
The ERC Advanced Grant, the European Union's highest endowed research funding award, is comparable in value to the Gottfried Wilhelm Leibniz Award, which is the most prestigious German research award. To qualify to receive an ERC Advanced Grant, a scientist must demonstrate individual excellence in research. The European Research Council uses ERC Advanced Grants to support established researchers working at the cutting-edge of their disciplines. The aim is to promote ground-breaking fundamental research and applied research in Europe. Administrative support, not only for this grant, is provided by the European Project Office of the Scientific Board of Mainz University Medical Center.