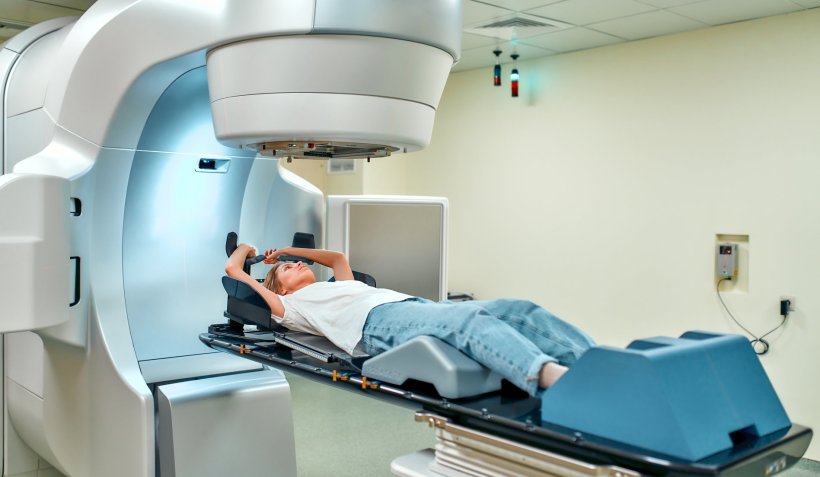 Image source: Adobe Stock/Valerii Apetroaiei
News • With or without surgery?
Early-stage lung cancer: "radiotherapy only" decision is viable, but...
Stereotactic body radiotherapy (SBRT) is being used increasingly in early-stage lung cancer. Between 2012 and 2018, the proportion of otherwise healthy patients treated with SBRT increased from 15 to 26%.
A study at the Yale University School of Medicine looked at data from the National Cancer Database for this six-year period and compared the 5-year survival rates for patients who had surgical resection and patients who elected to have SBRT. Overall, 30,658 patients were identified, including 24,729 (80.7%) who underwent surgery and 5,929 (19.3%) treated with SBRT.
In propensity-matched patients, survival favored SBRT for the first several months, but reversed after one year and long-term significantly favored surgical management (5-year survival 71.0% for surgery vs. 41.8% for SBRT). When the propensity-matched analysis was repeated to only include SBRT patients who had documented refusal of a recommended surgery, surgical management again had a superior 5-year survival with (71.4% vs. 55.9%).
The increasing usage of SBRT in otherwise healthy individuals represents a potential loss in life years for patients with early-stage NSCLC. Among patients that are eligible for either treatment, long-term survival favors surgical management, particularly for patients with a health-related life expectancy exceeding two years.
Brooks Udelsman, MD, presented this study looking at some of the reasons patients opt for SBRT, Monday, May 8, at the American Association for Thoracic Surgery (AATS) 103rd Annual Meeting in Los Angeles.
Source: American Association for Thoracic Surgery