Deal to progress Alzheimer's vaccine
AFFiRiS GmbH has granted GlaxoSmithKline Biologicals S.A. (GSK) exclusive rights to develop and commercialise its Alzheimer's disease vaccine candidates. Two are currently in Phase I clinical development, and others are in preclinical development.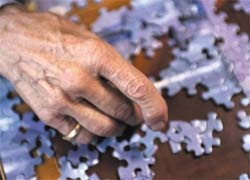 The AFFiRiS AFFiTOPE technology allows the design of proteins with very specific binding characteristics that are ideally suited for the development of vaccines against disease-causing 'rogue' human proteins, such as beta-amyloid – central to Alzheimer's disease pathology.
AFFiRiS GmbH (www.affiris.com) develops peptide-based vaccines to combat Alzheimer's disease, atherosclerosis and other diseases. The company has established platform technologies and a worldwide patent portfolio covering their vaccine candidates.