Changing the way we live
Marcel van Kasteel MBA, is VP of Philips and CEO of Handheld Immunoassays, a Philips Incubator venture in Eindhoven, the Netherlands, which recently announced that, by the end of this year, the first device to test for drug abuse will be marketed that will make on the spot testing simple and quick for use by the police.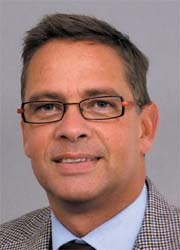 Daniela Zimmermann asked him about the development and what makes it different from testing kits that are already available. The incubator venture at which he works is one of several ventures set up by Philips to develop new and very different technologies in fields beyond its existing businesses, so that it can create new businesses.
The first partnership for Handheld Immunoassays is with the UK all-in-one drug testing firm Concateno. Under development is the first application of a new saliva-based drugs abuse product. 'A few years ago, Philips Research started a magnetic biosensor research project, and this led to our group being set up to focus on developing it for handheld immunoassay platforms. Think about glucose testing at point of care, where you have a finger-prick of blood and test for glucose; with our device, sensitivity goes up to 600 million times more than a glucose measurement. So, the possibility is that, with this technology, you could measure all kinds of different proteins – in home settings as well as in ambulances, at hospital admissions departments and in intensive care. It's lab testing outside the central lab.
'This is not specifically Philips' line of business, so we launched Magnotech Technology to take Philips into the world of point-of-care (POC) diagnostics. We are not the first to do this, but we are convinced we have something different in POC testing devices, because with this technology you only need a finger-prick of blood. We are looking for a solution within two minutes, and one offering ease of use, with no mixing of reagents or adding reagents, so that an untrained person could do it. At the moment, a heart attack patient is brought to hospital and monitored, and a blood sample is sent to the central lab. A very well-organized laboratory can send results back in 30-60 minutes – but the standard is about 60 minutes – and the patient is still lying there. Suppose you have a technology that can give results in two minutes, in an ambulance or admissions department. You could decide on the right treatment even before the patient is admitted.'
The elderly with chronic diseases could also benefit from this type of technology, he pointed out. They would not need to visit a clinic for a blood test and results would be ready immediately, thus two visits would become unnecessary. 'In the future, a patient could use this technology at home; take a finger-prick of blood, send the information over the Web or via a television (TV). Of course, it all depends on their age. Philips' research shows that elderly people don't like computers too much; they prefer friends. So Philips has a lot of home solutions, such as TV systems through which data can be transferred to the doctor, who looks at it and sends a recommendation to the patient, for example: You're okay, go on with your medication, or Come to the hospital urgently. That's the vision for our POC solutions. Of course, many patients want to actually visit their doctors; it's a social thing.'
A lot has been progressed about home monitoring, particularly in the USA, he added. There are daily blood pressure and weight checks, and TV communication between doctor and patient, even on a daily basis. But with POC testing there can be a shorter period between communication and even more of it with a doctor. And, he pointed out, if case results are bad 'then, of course, the doctor can still contact a patient directly – but overall he is saving time.' Referring to the group research on the handling of certain chronic diseases, he added: 'With some, if it's so bad that you have to stay home, your social life is not there any more. But, imagine that you could be tested weekly and this could predict flare-ups of certain diseases and your medication could be adjusted, and you could start having a normal social life again. It's a big benefit for patients as well. That's a big benefit.
Philips is currently manufacturing the devices -- cartridge, analyser and software. The firm is also in discussion with various pharmaceutical companies for the assay development. In the future, he pointed out; they may be involved with diagnostics companies with novel biomarkers.
Saliva is the first platform. The first product – for use by the police at roadsides, to test for drug abuse, is expected to be launched by the end of 2009. 'There's a big push for implementation in the Netherlands, for example, but they're waiting for the right technologies. Already there's some technology, but the police have to put the reagents in, mix it, and it's too complicated. With our solution a police officer will be able to collect a little saliva with a swab, and do that through the window when the driver is still in the car. After he has put the sample in the analyser, in 60 seconds he will get the result. If it's positive, he can take the driver to another place to draw blood and do the next analysis. So, next to the current alcohol testing, this could be an ideal situation to start doing roadside testing for drug abuse. It's already happening in the UK and Australia, and a lot of countries, including Germany, Holland, Italy and France, would like to implement this kind of device.
'We are also developing a blood solution to test for different proteins on the same technology, and we're looking for cooperation with a lot of pharma and in vitro diagnostics (IVD) companies to see which type of markers they see for this. We're interested in three or four major areas: oncology, cardiology, women's health and infectious diseases. Why? Because then we can combine it with the other Philips solutions, to integrate the total solutions. We can integrate all the information from in vivo and in vitro, and have the right solutions. Very briefly, that's what we're doing. Again, it's a new technology, in which I think we have a great advantage. We have our first partner, Concateno, for drugs of abuse, and are actively looking for partners in pharma as well as IVD companies. In my previous job I was a Vice-President of Europe, Middle East, and Africa at Beckman Coulter, so we are focusing a lot on the IVD companies.'
Reader inquiries:
Handheld Immunoassays:
High Tech Campus 5,
5656 AE Eindhoven,
The Netherlands
Tel: +31 40 27 49 792
Fax: +31 40 27 45 479
Email: magnotech@philips.com

More on the subject:
More on companies: