Cardiac diagnostics: MRI, CT or echocardiography?
Thanks to more precise imaging, cardiac diagnostics is becoming more reliable and technological advances in imaging procedures are rapid.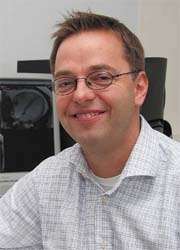 Looking at the costs involved in purchasing equipment, the question is always whether investment in the latest technology can be justified by its diagnostic benefits. One also has to look at which technology should be used for what types of diagnoses. Dr Torsten Sommer (TS), head of the Radiological University Clinic at the University Hospital in Bonn, spoke to European Hospital (EH) about the state of affairs in cardiac diagnostics and the possible fields of application for MRI, CT and echocardiography.

EH: What are the specific characteristics of the three procedures - MRI, CT and echocardiography - with a view to their use in cardiac diagnostics?
TS: Echocardiography is the primary imaging procedure for diagnostics. It is cheap, can be carried out at the patient's bedside and suffices for many problems, such as assessment of heart valve function.
It is also useful for the analysis of heart wall kinetics or the pumping capacity of the heart. However, echocardiography has its limits when strong calcification is present, for instance in the aortic valves. And at around 15%, the percentage of people on whom the procedure cannot be used is quite high.
In these cases, MRI is a good alternative. It can also be used for a follow-on diagnosis after an initial echocardiography, as its main strength lies in tissue characterisation, due to its high intrinsic soft tissue contrast. For instance, if the echocardiography shows up a space-occupying mass, the MRI images reveal the percentages of water and fat in this mass and to what extent it is vascularised.
A further strength of MRI is vitality diagnostics, i.e. the characterisation of the myocardium. Studies have shown that it is the most precise in vivo procedure for the detection and quantification of myocardial infarction. This can also be achieved with PET, but MRI is much faster and can produce extremely rapid images of the entire myocardium. Moreover, the spatial resolution is faster and the radiation dose is lower. Due to the display of perfusion we can also carry out functional ischemic diagnostics and assess any possible stenosis.
Currently, the main strengths of computed tomography are in the display of the coronary artery. A typical case for a CT examination would be a patient with an atypical angina pectoris with a low expected pre-test probability for coronary heart disease, but where significant coronary disease needed to be ruled out. If the CT examination does not show any pathological findings there is a negative predictive value of almost 100%.

EH: A lot has happened in the area of MRI. Tesla 3 opened up entirely new diagnostic possibilities and now we even have Tesla 7 – what are its advantages for cardiology?
TS: It is not realistic to expect using Tesla 7 for cardiac applications in the foreseeable future. This is because artefacts increase in proportion to the field strength, which means that the diagnostic value for cardiology is not yet sufficiently refined.
We initially had the same problems with Tesla 3. However, through enhancements in coil technology, adaptation of the sequences and improved homogeneity of the magnetic field, Tesla 3 has turned into a huge asset for cardiac imaging. The increased number of artefacts compared with Tesla 1.5 is offset by increased diagnostic precision.
The applications for Tesla 3, such as myocardial perfusion, flow quantification, vitality diagnostics and tagging, have been established over the past few years and are now an essential part of diagnostics. With tagging in particular we can see big differences compared with Tesla 1.5. With this method, a magnetic grid is put over the myocardium and a certain myocardial volume is marked; this can then be monitored across the entire heart cycle and makes it possible to show the complex heart contraction.
The method is not particularly new, but clinical use with Tesla 1.5 was not possible because the grid remained present only over part of the heart. Tesla 3 has basically facilitated the tagging procedure. However, Tesla 1.5 still has advantages over Tesla 3, with its higher number of artefacts for other applications such as abdominal examinations.

EH: So new is not always better. When is which investment worthwhile?
TS: It depends on the application for the equipment. Tesla 7 is not yet refined enough for use in cardiology. If a hospital has to decide on which equipment to buy, I would recommend Tesla 3. New technological acquisitions make sense only if used to full capacity, for example in co-operation with other departments. The consolidation of competencies from radiology and cardiology has proved successful here.