Breast cancer: Good news, bad news
Women who survive breast cancer for at least five years have a 89% chance that it will not recure. But those, who are still suffering and on endocrine treatment are likely to get arthralgia and arthritis.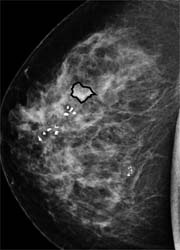 As if the diagnosis of breast cancer and ist treatment wouldn't be enough: If women are on an additional endocrine treatment, they are likely to experience non-inflammatory or even inflammatory joint pain, Ivana Sestak, Jack Cuzick and colleagues from Cancer Research UK recently published in The Lancet Oncology. A further condition, however, is that they previously have undergone a hormone replace therapy, received hormone-receptor positiv tumor diagnosis, undergone chemotherapy, received treatment with anastrozle versus tamoxifen – or have been obese.

In the one trial, postmenopausal women with breast cancer were randomly assigned to anastrozole (an aromatase inhibitor) or tamoxifen. Sestak and colleagues set out to determine the importance of a range of risk factors for joint symptoms and whether the importance of these risk factors changed according to how these women were treated. The study sample consisted of 5,433 women who reported no joint symptoms at the beginning of the ATAC trial.

Endocrine treatment reduces the concentration of estrogen in the body, and estrogen deficiency has been linked to joint symptoms in several different settings. Since the effects of the risk factors can accumulate, they need to be taken into account when aromatase inhibitors are being considered for women.

The researchers found that joint symptoms were reported by 777 of 1937 women (41.1%) who previously had used HRT and onliy in 1001 of 3496 women (28.6%) who had not used HRT. In addition:
Joint symptoms were reported by 1556 of 4596 (33.9%) with hormone-receptor-positive tumors and in 124 of 448 (27.7%) with hormone-receptor-negative tumors.
Joint symptoms were reported by 461 of 1176 (39.2%) who received previous chemotherapy and in 1317 of 4257 (30.9%) who have not.

Obesity as measured by body-mass index (BMI) also correlated positively with the onset of joint symptoms. About 37.2% with BMI greater than 30 kg/m², 31.3% with BMI between 25 and 30 kg/m², and 31.0% with BMI <25 kg/m² reported symptoms. The researchers also noticed a difference depending on which treatment a woman received. The percentage reporting joint symptoms in the anastrozole was 35.2% compared to 30.3% in the tamoxifen group.

"Awareness of risk factors for joint symptoms will help both clinicians and patients to anticipate and manage these symptoms and ensure optimum adherence to endocrine treatment," conclude the authors.

Women have good chances to survive

Anyway, a new study published in the Journal of the National Cancer Institute got better news: Women who survive breast cancer for at least five years after treatment have an 89% chance that they will not have a recurrence of the cancer after 10 years and an 81% chance after 15 years.

This investigation involved 2,838 women diagnosed with breast cancer from 1985 to 2001 who had surgery to remove the original tumor, some of whom had radiation. All of the women also took medication to prevent the cancer from returning. Cancer returned after five years in 7% of women treated for stage I breast cancer, 11% of women treated for stage II cancer and 13% of women treated for stage III cancer.

Study author Abenaa Brewster, an assistant professor at the University of Texas M.D. Anderson Cancer Center, noted that the study did not include women who relapsed before five years. She added that doctors now often prescribe aromatase inhibitors to post-menopausal women when they are diagnosed, which could lead to an even smaller number of relapses after five year.