BioLOGICAL Customer Magazine
'BioLogical' is the name of the new customer magazine by Greiner Bio-One. It will be published biannually and provide you with the latest findings on current topics and information about relevant innovative product developments – content designed specifically to appeal to medical, laboratory researcher or academic professionals.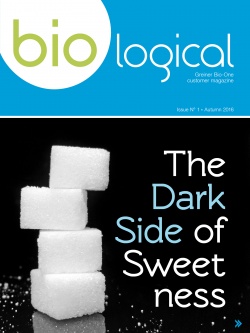 Greiner Bio-One had a long time to build up extensive subject area knowledge, with over 50 years of experience as your partner in the field of biology and medicine. From now on, we would like to share this knowledge with you in our customer magazine.
Greiner Bio-One published its first issue at the beginning of September 2016. 'BioLogical' will be published biannually in ePub format and can be read under the following link:
https://www.gbo.com/en_INT/news-events/newsroom/biological-kundenmagazin.html