Award for HIV monitoring
The CyFlow and CyLab technique (e.g. for economical CD4/CD8 counting in HIV monitoring in developing countries) has received 1st prize in the Innovations Award 2003, given by the State Ministry of Economy, Dresden, Germany.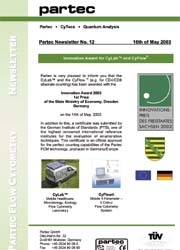 CyFlow and CyLab have also received a certificate - an official approval for the perfect counting capabilities of the Partec FCM technology - from the German Institute of Standards (PTB, Braunschweig), the manufacturer reports.