An all-rounder with many applications
The OPERON D 760 high-tech OR-Table
Given the increase in overweight or obese populations (estimated at around 50% in Europe alone), hospital equipment that supports patients must be tried, tested and proved to be robust indeed. Like many hospital equipment manufacturers, the Tuttlingen-based firm Berchtold is well aware of this growing concern, already providing components and accessories for obesity surgery.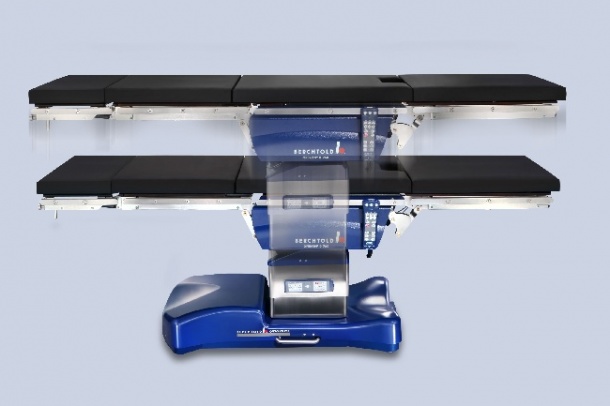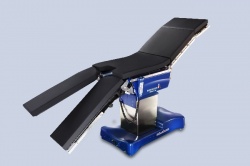 Now the firm has launched a new Operon D 760 surgical table for operating theatre or out-patient use. Versatile, with premium construction and high capacity, this new product can support extremely obese patients -- weighing up to 450 kg.
The surgeon can not only adjust the new table height by 440 mm for ergonomic working, but patients can also be positioned flexibly on a surface of four modules and it also comes with an extensive range of accessories and various mutually compatible leg plates.
The basic version includes a head rest, and back and seat plates. The leg plate drive is available either in one piece as a standard or short version, or as split leg plates, ideal for laparoscopic abdominal surgery. The Operon D 760 is suitable for all surgical aspects, as well as for out-patient treatment. With a minimum height of 635 millimetres, a Trendelenburg position of 30 degrees and a tilt of up to 20 degrees, all major positions are easily achieved. Also, its wide height adjustment range up to 1075 mm meets needs when procedures require surgeons to stand or sit. An infinitely adjustable kidney elevator goes up to 75 millimetres in height.
The robust construction of the table, along with four hydraulic cylinders ensures secure positioning and optimal patient safety. This is also due to the 534 mm wide bearing surface. In addition, special padding protects the patient from pressure sores. Berchtold says it achieves this pressure ulcer prophylaxis by a pad of high-quality viscoelastic and thermoactive foam that adjusts to the body. 'The table is equipped with an X-ray cassette tunnel along its entire length, even over the column. This is fully integrated under the tabletop so that, for conventional X-rays, there's no need for additional X-ray attachments. The carbon fibre imaging extension plate permits 1,117 mm metal-free imaging and unrestricted imaging above 1626 mm.'
The Operon is also adjusted by remote control. 'All functions are clearly laid out with keys on the user-friendly hand pendant. Comfort functions for all important patient positions are already programmed in,' Berchtold points out. 'This makes the table intuitive and fast to use.'
Easy-moving rollers and the InstaDrive electro-hydraulic traction drive facilitate patient transport, the firm adds. 'This makes it easy to move and manoeuvre the table. Slow deceleration provides a high level of patient safety. The table has a serial interface that can be used for rapid and accurate status analysis, fault diagnosis or individual adaptation of parameters such as adjustment speeds.'
The operator can adjust the Operon D 760 manually by foot pump and an additional hand pendant attached directly to the table column.
Existing accessories from the company's Operon OR-Table range is compatible with the standard rails of the table and can be fully integrated.