Alpinion focused on the front-end of ultrasound
Medica marks the world debut for the E-Cube 9. And it is also the first strong public showing for the developer of this ultrasound system, Alpinion Medical Systems.European Hospital met with Alpinion President and Chief Executive Officer Seokbin Ko to learn what this new player emerging on the European ultrasound scene is bringing to the game.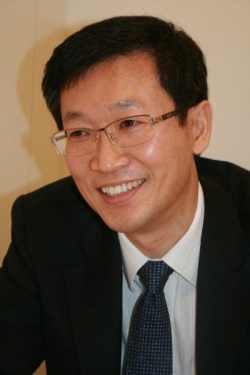 "We believe we can do better," Ko told us, revealing his passion for imaging technologies.
"For many years there has been a strong focus almost exclusively on the back-end processing in ultrasound, but we want to shift attention to the front-end with a focus on the quality of the signal being sent to the processors," he said.
He explained that Alpinion has developed, and is introducing at Medica 2010 an innovative transducer technology that uses a single crystal to gain greater bandwidth and to make possible the largest radius of curvature for a convex transducer.
The result, he said, is a line of ultrasound transducers delivering higher resolution with greater uniformity than the conventional probes currently available. The product line received the CE mark in September, 2010.
"It also means is that we can offer the world's first full volume 4D transducer with single crystal at a competitive price," he said.
Ko said his company is young, having started in 2007, and the E-Cube 9 is only the first product in an ambitious program planned by this Korean start-up that aims to shake up the world of ultrasound.
For example, Ko said is already looking beyond diagnostic imaging to therapy using high-intensity focused ultrasound (HIFU) so that Alpinion will be the world's first company to both see-and-treat on the same platform.
The company is now developing a HIFU system with a dynamic targeting of the energy to enable precision planning in treatment without repositioning of patients or mechanical maneuvering of the device. The first clinical trials of Alpinion's HIFU technology are currently being planned with medical centers in Korea.
"By combining the imaging engine and the therapy on a platform developed by the same company creates tremendous benefits through integrated engineering," said Ko.
Strategically, Ko said he finds Germany to be very attractive as a base for Alpinion's entry into the European markets and that his focus is not only distribution but a service network so that customers are assured by the full meaning of what Ko calls Alpinion's "value innovation."
"Value for customer can be defined, of course, as the combined benefits of total investment and maintenance costs," he said.
"We promise our customers that Alpinion increases benefits and decrease customer's investment through our continuous value innovation process. This is the way how we work and motive for us," he said.