Wearable monitoring device
Wireless ultrasound patch monitors vital signs in deep tissues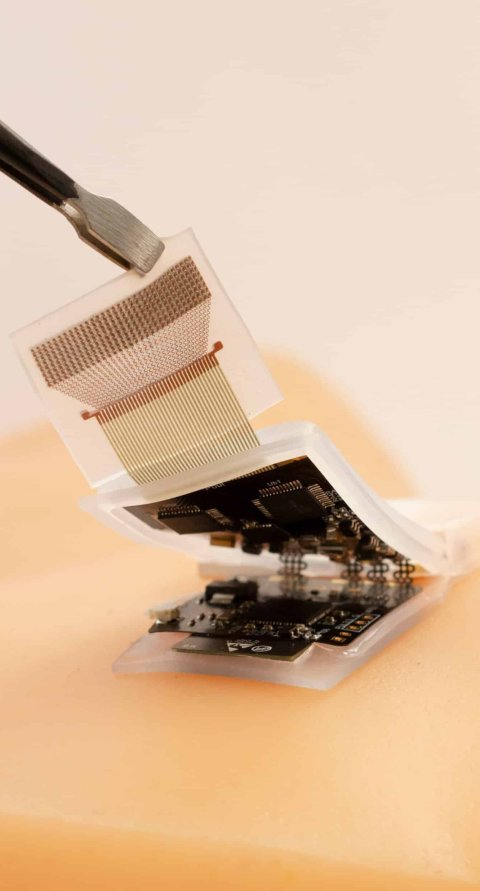 A team of researchers and scientists from the University of California, San Diego (UCSD) have developed a stick-on ultrasound patch, the first fully integrated wearable system for evaluating cardiovascular function while people walk, run, or even ride a bicycle. This Ultrasonic system-on-patch (USoP) is the result of several years of research conducted by nanoengineering department engineers. 'We have released a steady flow of improvements in ultrasonic sensors with wearable flexibility and skin adherence, as well as providing data extraction and calculation capabilities," said Sheng Xu, Associate Professor of Nanoengineering at the University of California, San Diego (UCSD).
Three major innovations
Three major innovations have been carried out. The wireless ultrasound device combines an ultrasonic sensor and miniaturized flexible control circuit within a single wearable system. That combination frees the ultrasound patch from the cables that it previously relied on for power, and data transmission cables also kept it from being a 'truly wearable device'. Since mobility can create motion problems, the team also added a new machine-learning algorithm that automatically analyzes signals and instructs the ultrasonic sensor to track targeted tissues as they move, and then interprets incoming data by using advanced machine learning. The engineers published their work in the May issue of Nature Biotechnology.
The wearable ultrasonic patch can continuously monitor deep tissue vital signs data from tissues as deep as 154 mm beneath the skin, allowing patients and their clinicians to continuously track a range of key cardiovascular metrics for up to twelve hours per session: including, blood pressure, heart rate, cardiac output, arterial stiffness, ejection fraction, stroke volume, and other physiological signals vital data.
IoMT: advancing physiological signal monitoring
The UCSD team next plans to test their wearable ultrasound device among larger populations and for a broader range of clinical applications as they make their way towards real-world clinical use and commercialization.
By offering real-time data for enhanced patient outcomes, the USoP exemplifies how the Internet of Medical Things (IoMT) transforms patient monitoring. This medical device can be used in various medical settings, including emergency medicine, primary care, and remote areas, potentially improving patient care by providing continuous monitoring of vital signs, which can help detect health issues early and improve patient outcomes. (BB)