Image source: Catharina Hospital
Article • Detecting Coronavirus
AI vs. Covid-19: 'Barcode' brings quicker test results
When patients are admitted to a hospital emergency room (ER) it is immediately vital to determine whether s/he has Covid-19. However, with a regular PCR test a result can take up to a few hours. Thus, initially, the patient must be isolated. During the height of the corona pandemic last year, researcher Ruben Deneer from Eindhoven University of Technology (TU/e) and clinical chemist Arjen-Kars Boer from the Catharina Hospital were asked whether they could find a quicker way to rule out Covid-19. The answer was 'yes'.
Report: Madeleine van de Wouw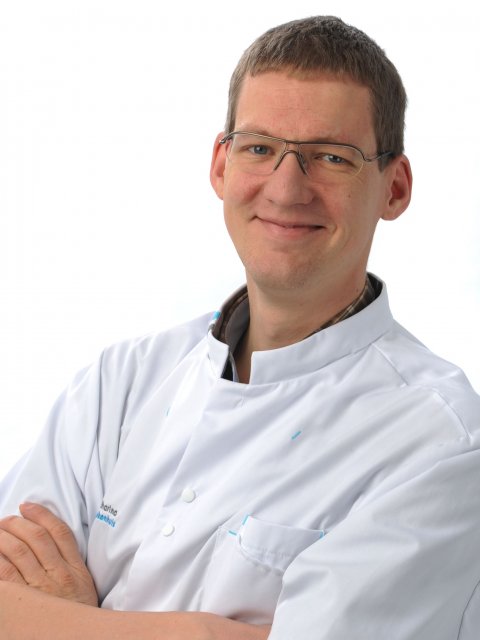 'During the first period of Covid-19 no quicker PCR tests were available; results sometimes took up to four hours,' Boer explained. 'Now there are faster tests on the market, but they are expensive – in the Netherlands about €110 per test. We knew that patients admitted to the emergency room have their blood taken as standard for a so-called quick scan. The blood is tested for as many as 30 different values. So we wondered if an infection might be visible in the blood, appearing as a sort of recognisable barcode that is characteristic of Covid-19.'
The researchers worked on that idea and their studies showed that, with the help of a calculation algorithm, it was indeed possible to show these changes in the blood. This led to the CoLab score. Unlike a PCR test, which indicates the presence of virus particles, the CoLab score analyses the changes the virus causes in the blood. Those changes are present even before a patient notices or knows that he or she is infected. The CoLab analysis rules out the signs of an infection so a PCR or LAMP test is only necessary when infection cannot be ruled out.
CoLab screening does not replace a PCR test but is an additional tool for quick initial Covid-19 screening and is – with an accuracy of almost a hundred percent on the absence of the 'barcode' in the blood – extremely suitable for application in the emergency room. There are several advantages: expensive PRC-tests are needed less often and, because the results are back within an hour, patients with a negative result can leave isolation quickly. Also, the medical staff will know in a short time frame whether they can approach the patient without extensive personal protective equipment.
How the test score works
The CoLab score is software based on an artificial intelligence (AI) algorithm. With this algorithm, patterns – the 'barcode' that indicates a Covid-19 infection – are recognised in the blood. If no patterns are present, an infection is virtually excluded. 'During the search for that barcode', Boer explained, 'the data of more than 10,000 patients entering the emergency room were digitised to develop the algorithm. The data were both from infected and non-infected people. To analyse this data manually would be an almost impossible, painstaking and laborious process, so we used AI to draw the right conclusions from those data. 'We looked for the smallest set of results that makes a good prediction and we managed to identify ten laboratory tests that together form the best predictors of Covid-19.'
Results are expressed as a cut-off value from 0 to 5 – a value used to determine whether a result is abnormal. The number indicates the values found. With 0, 1 and 2, the chance of corona is almost zero. At 3, 4 and 5, a subsequent PCR test is needed to demonstrate infection. Because a PCR test is not a routine procedure if people do not show symptoms, missing a very small portion of patients has more consequences when the prevalence is high rather than low. The cut-off value, the value used when a result is called abnormal, is therefore prevalence dependent.
A €150,000 grant
Every hospital in Europe should be able to use it very simply: plug and play

Arjen-Kars Boer
Recently these Dutch researchers received a grant of €150,000 to accelerate the introduction of the CoLab score in European hospitals. 'That's quite a challenge,' Boer observed. 'Every hospital carries out different tests in the emergency room. We are therefore going to make our CoLab score 'smarter' so that it can be used in every hospital in Europe. We're working hard on that along with the company Gaston Medical. Every hospital in Europe should be able to use it very simply: plug and play. It's easy if they already use Gaston Medical's software, but a connection must also be sought for hospitals that use other software.'
The grant comes from the COVID-X programme which aims to beat Covid-19 with data solutions. There were 112 applications submitted and only 15 were honoured, including one from the Netherlands. Funded by the EU within the Horizon 2020 programme, the Covid-X program aims to make data solutions ready for the European market in nine months.
Profile:
Arjen-Kars Boer PhD, who has worked in the Catharina Hospital, in Eindhoven since 2006, is listed in the European register of specialists in laboratory medicine, as well as an endocrinologist. Besides this specialty he is known for using big data solutions in clinical chemistry, bariatric surgery, cardiology, and emergency medicine. He also trains various laboratory specialists and co-promotes several PhD students.