A website for breast cancer patients
For women (or friends and relatives of women with breast cancer),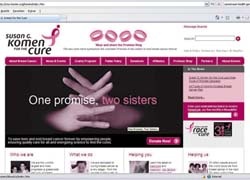 the Susan B. Komen website (www.komen.org) contains an extraordinary resource: message boards that contain thousands of topics. In October 2007, over 170,000 message posts on over 20,000 topics. A robust search engine facilitates research on topics of interest, which range from the clinical to commiseration. The experiences of such a large group of participants about treatment options, surgical experiences, radiation therapy, chemotherapy and treatment reactions, and reconstruction are useful for both the patient to the professional.
Registration is free and participation can be anonymous. The site is in English; its constituency is global.