A better way to take temperature
GE Healthcare introduces temporal scanner thermometer
The temporal artery thermometer was developed in response to the clinical requirements for a truly non-invasive, accurate method of taking temperature. GE now offers, in Germany and Middle-East, the Exergen handheld temporal artery thermometer TAT 5000, which provides several benefits including accuracy, ease of use and cost effectiveness.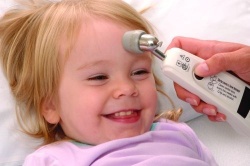 As accurate as pulmonary artery temperature
The Temporal Artery Thermometer measures a patient's temperature using infrared readings of the heat emitted at the skin surface over the temporal artery. Its accuracy is equivalent to pulmonary artery and rectal temperature assessment methods. Further, similar to pulmonary artery temperature, the Temporal Scanner identifies changes in your patient's temperature faster than rectal measurements and with more reliability than axillary measurements.
Independent from environment, the measurements made with this device take ambient
temperature into account, resulting in a measurement that is independent from the environment thanks to its Arterial Heat Balance (AHB) patented software.
Great patient comfort for all type of patient
Non-invasive and fast, the Temporal Artery Thermometer ensures patient com fort for adults and is ideal for neonate and pediatric patients.
A fast & simple motion
To take readings with the Temporal Artery Thermometer, slide the probe across the forehead and then touch it behind the earlobe. The patient's temperature readings are determined quickly – within only a few seconds – and displayed clearly and visibly.Caregivers and patients alike will appreciate this advanced, non-invasive approach that makes taking temperature quick and comfortable.
Support infection control initiatives
The Temporal Scanner temporal artery thermometer provides the added protection of a silver ion antimicrobial head, which is capable of self-disinfecting. The silver ion anti-microbial head kills microbes such as E -Coli, Staph and Listeria.
In addition, laboratory tests show that Methicillin-Resistant Staphylococcus Aureus (MRSA) and Vancomycin-Resistant Enterococcus faecalis (VRE) levels are cut by more than 20 percent in 10 minutes, and reduced to undetectable levels in 6 hours. Plus, since the Temporal Scanner does not come in contact with mucous membranes, the risk of patient infection is reduced. This helps protect patients from harmful bacteria and can support your organization's infection control initiatives.
Reduced need for probe covers
Compared to oral thermometers, the Temporal Scanner temporal artery thermometer can offer a lower overall cost of ownership. By reducing the need for probe covers, the Temporal Scanner can reduce thermometry-related expense and waste. If deemed necessary, reusable caps and disposable sheaths can be provided for added protection.
The Temporal Artery Thermometer TAT-5000 is one of the most accurate across non-invasive
temperature assessment methods. Temporal Artery Thermometer TAT-5000 is what patients and physicians have been expecting for a long time.

More on the subject:
More on companies: