Research
3D printers help neuroradiologists
The treatment of cerebral aneurysms is often very complex and initially it is not always obvious which type of treatment is best suited for an individual case. In October, during the Annual Congress of the German Society for Neuroradiology e.V., a working group from Hamburg introduced a procedure that enables the production of exact copies of individual aneurysms with a 3D printer.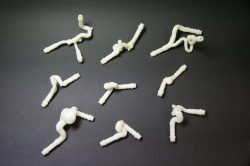 These are then used to investigate which treatment is likely to be the most promising. Following this, complicated interventions can also be trialled on the model. The procedure for the development of models of aneurysms with the 3D printer was developed at the Research Centre for Medical Technology, in Hamburg, led by Professor D Krause of Hamburg University of Technology, in Hamburg-Harburg, and Professor J Fiehler from the Clinic and Polyclinic for Neuroradiological Diagnostics and Intervention at the University Medical Centre, Hamburg.
'As it turned out, the procedure enables the creation of a replica of an individual cerebral aneurysm from a specific patient that is cost-effective and true to the original and contributes to individual treatment planning,' Fiehler said. 'The models can be utilised to decide which type of intervention should be considered, because they also facilitate a simulation of the aneurysm blood flow dynamics.
'Furthermore, the precise placement of a platinum coil, for instance, can be simulated and thereby optimised – and ultimately one can run through the entire intervention to be carried out.'
The models are also suitable for testing new medical devices. In Hamburg the 3D models are already used in treatment planning for difficult aneurysms. physician Professor. Fiehler hopes that, in just a few years' time, all patients with complicated aneurysms will benefit from the innovation.