14,000 urologists flock to EAU 2008
Prostate cancer high on the agenda
Nearly 14 000 urologists from 84 countries attended the 23rd Annual congress of the European Association of Urology held in Milan, where changing horizons in the diagnosis and therapy of prostate cancer, a symposium sponsored by Ipsen, underlined the main focus of the entire event.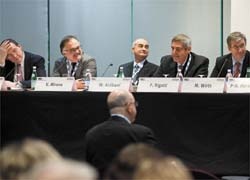 New biomarkers for PCa were highlighted at the launch of PROCABIO, a joint initiative of the urology department at Erasmus Medical Centre, Rotterdam and the European Randomised Study of Screening for Prostate Cancer (ERSPC). Under the umbrella of the PRIAS study, a joint academic/industrial partnership, PROCABIO focuses on targeted therapy through the development and assessment of biomarkers. New markers to detect and predict the outcome in early prostate cancer are urgently needed. The 'gold standard' biomarker, prostate-specific antigen (PSA), has limited diagnostic specificity and prognostic value. Its use has lead to a sharp decrease in the prevalence of advanced stages of prostate, but it is thought that up to 50% of diagnosed patients, especially those with PSA levels lower than 10 ng/ml, would have been better served by active surveillance than invasive techniques. Exosomes from prostate cancer cells have been identified as potential biomarkers that are isolated from patient's serum to predict, from early stage, the outcome of the disease.
Biomolecular diagnostics of prostate cancer, taking a genetic rather than a proteomic approach suggest, according to Schneider et al. (Dresden) that only four transcript genes may be sufficient for PCa detection in minimal prostate tissue samples.
For more traditional PSA monitoring, Beckman Coulter offers two new WHO-calibrated Access assays that measure total prostate antigen (tPSA) and free (fPSA). Compared with the traditional Hybritech calibrated assays the new assays gave 25% lower values for both tPSA and fPSA. In clinical practice this lower cut-off for tPSA should be considered when using this assay.
Imaging techniques
One Hamburg-based group has a promising new technique for PCa detection that uses ultrasound-based real-time-elastography (HI-RTE, Hitachi Real-time Tissue Elastography). Tested in 67 patients undergoing radical prostatectomy, elastography was shown to have a sensitivity of between 76-90% and a specificity of 68-78% depending on tumour location, with best results at the gland apex. The authors think there is high potential for elastography to improve PCa detection. But whether it can be used for targeted biopsies and is as sensitive as extended biopsy schemes needs to be determined. Results obtained in Innsbruck show that the use of a stiffness-grading system can enhance the PCa detection rate and increase diagnostic accuracy in real-time-elastography.
Prostate cancer treatment
The recovery of erectile function and avoidance of positive surgical margins are competing outcomes of radical, retro pubic prostatectomy. The decision to preserve or resect the neurovascular bundle during the procedure is based on information concerning the presence and location of the extra capsular extension (ECE). Nuremberg researchers have investigated whether dynamic contrast-enhanced endorectal MRI (eMRI) could be used accurately to depict the positions of the structures involved and aid decision-making. Obtaining excellent results, it appears to be a very sensitive pre-operative, clinical staging-method to identify candidates for nerve sparing RP. In patients with satisfactory erectile function, but a high clinical probability of ECE disease, functional eMRI should be included in pre-operative tests and the results acted upon.
An alternative and equally innovative technique was proposed in an American study evaluating multiphoton microscopy with second harmonic generation (SHG) and fluorescence following excitation of tissues for in vivo imaging of the prostate. The procedure provides real-time microscopic details that correlate well with histological findings and may play a greater role in nerve sparing RP in future.
UK medical teams are trying a more personalised approach to operational procedures. Pre-operative MRI data giving the location of the prostate, the surrounding bone and also tumour position, location of blood vessels and nerve bundles is overlaid on the surgeon's video display to aid robot-assisted radical surgery. Treatment options in advanced prostate cancer were not forgotten. Radical retro pubic prostatectomy appears to be the best treatment option with a Gleason score ƒ8. According to a group from Moscow and Emporia, Kansas, nearly 72% of patients remained progression-free for five years post-surgery. Findings from an Italian study endorsed this, showing a higher rate (3-fold greater) of secondary malignancies in patients treated by external–beam radiation therapy rather than RP, without neo- or adjuvant hormonal therapy for localised prostate cancer.
Intra-operative radiotherapy (IORT) for prostate cancer is a relatively new technique whereby high doses of radiotherapy are given during surgical treatment. The volume treated includes the prostate, the seminal vesicles and perioprostatic area and the mean exposure time was 30 minutes. In the so-far tested, small number of patients with locally advanced prostate cancer, the procedure represents an easy, safe alternative, feasible in acceptable surgery time and with minimal toxicity. The procedure was found to be suitable for 96% of cases and 2 year follow-up finds all 28 patients are still alive.
Other News
Bayer Schering Healthcare used the EAU to launch its new range of men's healthcare products; Levitra, Testogel and Nebido, aimed to treat men caught in the cycle between erectile dysfunction, low testosterone and the metabolic syndrome.
The EAU announced several new updates of their guidelines including one on the management of neurogenic lower urinary tract dysfunction (NLUTD), a multi-faceted pathology treatment of which to now had been outside the urological field.
(Downloads: www.uroweb.org/
professional-resources/guidelines).
Congress details: http://webcasts.prous.com/EAU2008/.