Article • T-2-weighted imaging
When the brain turns white
White matter on the brain is a difficult subject. Even the terminology is varied, making differential diagnosis complex. An understanding of prevalence and of the tools available to facilitate the diagnosis of individual diseases is important, Dr Gunther Fesl, radiologist at Praxis Radiologie Augsburg, explains.
Report: Marcel Rasch
'Differential diagnosis of white matter on the brain is difficult. Even the terminology varies considerably. We talk about Leukoaraiosis, Leukoencephalopathy, white matter lesions, white matter hyperintensities, white matter changes or white matter disease,' Gunther Fesl explains. However, as the underlying causes differ significantly, the radiologist's differential diagnosis must be accordingly precise.
'Based on a T-2-weighted image alone, it's usually impossible to make a precise diagnosis, as seen in the example image. The list of differential diagnoses is long. 'The reasons for white matter range from the normal, human aging process to very rare diseases,' Fesl explains. The older we become, the more of these white spots can be seen on the brain. 'The transitions from normal aging to disease are smooth,' he adds. Therefore, it is important to determine the margins to actual disease. 'Leaving aside physiological processes, such as aging, caps, bands or perivascular spaces, which are often diagnosed by chance, there can be hypoxic-ischaemic or inflammatory/autoimmune processes, right down to toxic, infectious or even traumatic occurrences in the brain. Tumours or metastases also need to be ruled out,' he points out.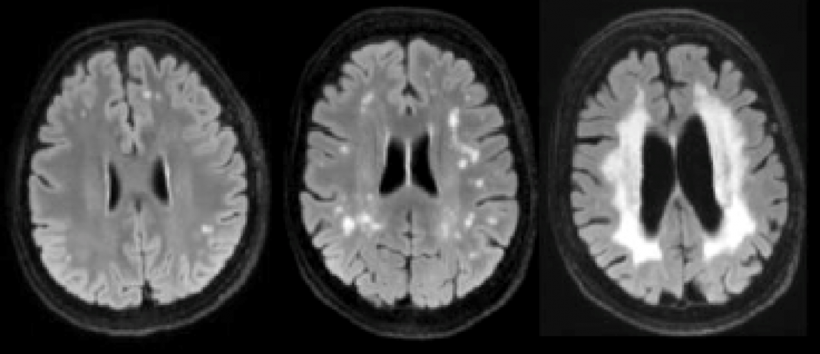 A precise look helps
'Whilst some confluent white matter often can be still attributed to the aging process of people in their mid-sixties, a completely confluent image is likely to be pathological.' The Fazekas score really helps to classify microangiopathies. 'Microangiopathies correlate with dementia, depression, strokes and even death,' he explains. 'This means that the relative risk of suffering one of these events rises with the increase in white matter on the brain. However, all these manifestations are subject to smooth transitions.'
The causes of typical microangiopathies must be clearly defined: 'Along with the aging process, smoking, high blood pressure, diabetes mellitus and some other vascular factors can also be causes,' Gunther Fesl adds. By looking at the prevalence of diseases, some can often be ruled out based on their prevalence rate. Reassuringly, hereditary diseases are classed as very rare, and even the frequently cited neuroborreliosis only occurs with a probability of 1:100,000. 'In most cases, the radiologist deals with hypoxic-ischaemic diseases requiring investigation. With a prevalence of 100:100,000, multiple sclerosis is the most common of the inflammatory diseases,' Fesl says. All other diseases are a lot rarer, but must still be ruled out.
Clinical information is vital
'T-2-weighted images are becoming ever more important in helping radiologists to make differential diagnoses because they can be used to detect microbleeds. Contrast enhanced images also help to detect tumours, metastases and patterns of inflammation. For diseases such as multiple sclerosis, MRI examinations of the spinal cord and MRI scans of the head are central tools for differential diagnosis, Fesl clarifies. CT images to detect or exclude bleeds and calcifications are also important for a thorough diagnosis.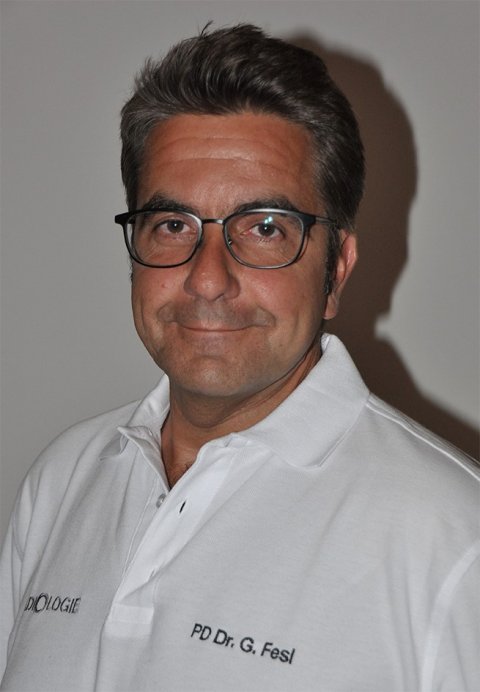 'Radiologists are nothing without relevant clinical information. A 30-year-old patient, for instance, is very unlikely to be suffering from microangiopathy. Communication with the referring physicians is therefore very important. We depend on the anamnesis, on the results of clinical examinations and readings from blood and cerebrospinal fluid to make a precise diagnosis,' Fesl says, underlining the significance of this information.
'I am convinced that, in the future, tools such as artificial intelligence and big data will really help to make differential diagnosis easier and faster. The recognition of patterns, which is exactly what the radiologist can achieve with his own eyes within the constraints of the time he has available on a daily basis, will be much easier with tools that can be utilised as the basis of diagnosis,' Fesl predicts. Still, however, nothing works without communication with those who refer patients and without comprehensive background information about these patients. 'Tools,' he points out, 'can only supplement, never replace.'
Profile:
Neuroradiologist Dr Gunther Fesl has been a radiologist in private practice at Praxis Radiologie Augsburg Friedberg ÜBAG and at the Private Practice for Radiology H15 since 2015. His scientific focus is on functional magnetic resonance tomography (fMRT), brain anatomy, interventional stroke therapy as well as further modern neuro-interventional therapies. Fesl was previously senior consultant at the Department for Neuroradiology at Munich University Hospital and head of the interventional neuroradiology division.