What referring physicians demand from radiology
Radiology lies at the very centre of the healthcare chain. Most patients pass through an imaging department at one point or another in their treatment.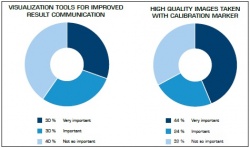 That said, an organisation's overall effectiveness is highly dependent upon the ability of radiology to provide excellent service to referring physicians.
Sectra polled 150 neurologists, neurosurgeons, urologists, orthopaedists, internists, and general surgeons to discover what they needed from radiology.
Based on this information, we created this report outlining what radiology needs to focus on in order to improve its service to referring physicians – ultimately increasing overall efficiency in the healthcare chain and the quality of patient care. The survey confirms the wellknown fact that referring physicians would like to see an easy procedure for ordering studies, shorter report turnaround times and an efficient and secure method for notification of critical results.
However, the survey also provides details as to what referring physicians actually express with their demands. It is interesting to note that 71% of the respondents in this survey refer patients to multiple facilities. Consequently, in a private healthcare market, the service level provided will influence a referring physician's decision on where to send patients. The report may also offer a few surprises. For example: Are you providing 3-D visualisation with your reports?
Six out of ten respondents think you should. Are the images you send to orthopaedists taken with a calibration marker? Seven out of ten respondents think they should be. You can also learn what factors referring clinicians consider to have the greatest impact on their collaboration with radiology.