Ventilator-associated pneumonia
Draining respiratory secretions using endotracheal tubes with subglottic suction can reduce VAP
The use of endotracheal tubes with a dorsal lumen to allow drainage of respiratory secretions is currently not common in Germany, although two meta-analyses from the USA and Canada have already demonstrated that this special technique can reduce ventilator-associated pneumonia (VAP) by 45-50%.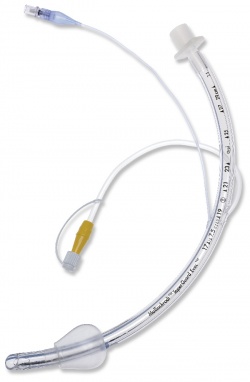 The Department of Anaesthesiology and Operative Intensive Care Medicine at Berlin's Charité University of Medicine had introduced the endotracheal tubes (ET) with subglottic suction in 2011 at their all-in-all three university campuses. Christine Geffers PhD, senior physician at the Charité Institute of Hygiene and Environmental Medicine, spoke with our correspondent about the drainage technique for respiratory secretions.
Asked why these special tubes were introduced to intensive care at Charité, Dr Geffers explained that, having read about an official USA recommendation, the hospital's anaesthetists and intensive care specialists discussed the device's introduction during a meeting regarding about possible improvements in medical devices. 'We were immediately convinced by the system and findings of the first meta-analysis from 2005, which was then available and confirmed a reduction in VAPs of up to 50%. In the US, these special tubes that drain respiratory secretions collecting under the glottis over time during mechanical ventilation, have been officially recommended for a while (CDC and Healthcare Infection Control Advisory Committee 2003 recommendations). However, in Germany we have no official national recommendation yet; the last recommendation from the responsible Commission for Hospital Hygiene and Infection Prevention (KRINKO) was published in 2000 – but most studies on these tubes were not published until later.
'When introduced in 2011, we opted for an ET, which differs from conventional tubes in two ways. On the one hand it has this special aspiration function, which works via a small opening above the cuff to which a tube is attached, which aspirates the respiratory secretions of the prone patient. The secretions can either be drained manually via a syringe or, as recommended for clinical practice, with a vacuum pump that aspirates the secretions permanently or intermittently. The other difference is that the ETs we use are equipped with a very thin cuff material. The finer the material of this cuff the better it adapts to the trachea and the fewer secretions get into the lower airways.' Use of the micro-thin cuff has not been backed up in studies to the same extent as the benefit of subglottic suction, he noted, but is convinced its use does no harm.

Indications for use
'The most common indication for intubation is a general anaesthetic during surgery. All patients who are likely to require mechanical ventilation for more than 24 hours after surgery are fitted with ETs with subglottic suction. On the intensive care ward, all patients who need to be ventilated are fitted with this type of system because we can assume they will need to be ventilated over a longer period of time. They often then also receive tracheal cannulas, and in this case, we also use special cannulas with subglottic suction and a thin cuff.
Feedback
'In the beginning some people were a bit critical because the vacuum pumps make very loud slurping noises, considering that we try to make an intensive care ward stay as comfortable as possible, i.e. with as little noise as possible and with pleasant lighting. The level of noise is a distinct disadvantage, but not significant enough to outweigh the advantages.
Disadvantages? 'There are studies which, with the help of endoscopic examinations after mechanical ventilation using these tubes, have found that the suction may cause damage to the mucous membrane in the trachea. However, it isn't clear whether the pressure of the cuff caused this, or the suction itself. In any case, we haven't been able to observe any remarkable damage to the mucous membrane, although we did not explicitly look for it. A further meta-analysis, from 2011, has now arrived alongside the one mentioned earlier. Whilst the first analysis evaluated five randomised, clinical studies (with 896 patients) the second study evaluated 13 (with 2,442 patients). This analysis also confirmed a reduction potential for VAP of 45%. Asked whether she has been able to observe the respective effects on the wards, Dr Geffers said that she does not believe that the pneumonia rates under real-life conditions are actually halved. 'However, I do expect to see an effect just based on the theory. But regardless of that, the combination with other methods is very important to effectively reduce the pneumonia rate.
'Apart from the earliest possible extubation, regular mouth hygiene with antiseptic substances is, in my view, indispensable. This means that the oral mucosa should be dabbed once per shift with substances such as chlorhexidine, or octenidine, to reduce the number of bacterial pathogens to start with. There are studies that confirm an up to 50% reduction of VAPs through appropriate mouth hygiene. I'm convinced that the combination of good mouth hygiene and subglottic suction with a micro-thin cuff can significantly lower the number of pathogens and therefore the risk of VAP for the respective intensive care patients.

Meta-Analyses
Dezfulian, Cameron et al., Subglottic secretion drainage for preventing ventilator-associated pneumonia: a metaanalysis, The American Journal of Medicine (2005) 118, 11-18. Muscedere, John et al. Subglottic secretion drainage for the prevention of ventilatorassociated pneumonia: a systematic review and meta-analysis, Critical Care Medicine (2011) 39, 1985- 1991.

PROFILE
Dr Christine Geffers studied medicine at the Free University Berlin, and then became a resident at the Institute of Pathology at Moabit Hospital in Berlin for two years. In 1996 she became a research associate at the Institute of Hygiene and Environmental Medicine at the Free University Berlin (now Charité University Medicine Berlin). Since qualifying as a Hygiene and Environmental Medicine specialist, including a 12-month residency on the intensive care ward at the Clinic for Anaesthesiology and Intensive Care at the DRK Hospitals Westend in Berlin, she has been a consultant at the Institute of Hygiene at the Charité since 2001. In 2003/2004, Dr Geffers worked for Professor Barry Farr at the University of Virginia, USA, with a scholarship from the Walter-Marget Association for the Promotion of Infectology.