Hemolung speeds COPD patient recovery
Holger Zorn reports
This March, Heinz-Dieter Hilgers arrived for his once-monthly check-up at Ruhrlandklinik in Essen. Last June, his situation was far less relaxed. Suffering chronic obstructive pulmonary disease (COPD) for almost two years, he had been listed for a lung transplant since April 2009. During his wait for an organ, his illness increased.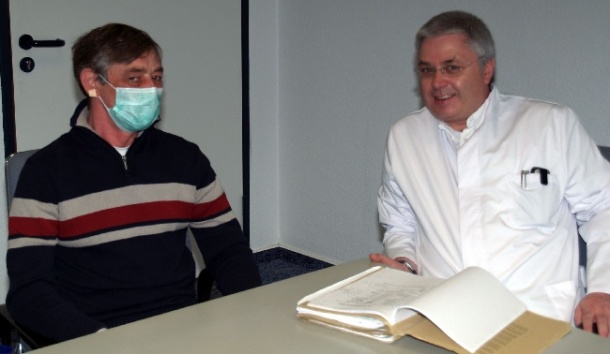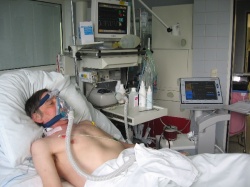 From February 2010 he received oxygen therapy. From May, it was non-invasive ventilation. Nothing helped. 'Taking a shower took me an hour. Even eating was an effort,', he said.
In June, he was transferred to Ruhrlandklinik Essen, a specialised thoracic centre in North-Rhine Westphalia. 'He had an infection-induced exacerbation and came to us with an arterial carbon dioxide pressure of 90 mmHg, more than twice the normal value, and he developed a pneumothorax,' explained ICU head Frank Bonin MD. Antibiotic treatment began and continuous non-invasive ventilation was established. There was no clinical improvement. 'I couldn't remove the ventilation mask for twenty seconds,' the patient recalls. Just days later, extracorporeal carbon dioxide removal was performed using the Hemolung Respiratory Assist System, a new lung support device developed by ALung Technologies of Pittsburgh, PA, USA(see EH 1/2011 page 7-8).
The patient's breathing soon became far easier -- a respiratory rate reduced from 35-40 breath/min down to just under 10 breath/min; the required minimum frequency of 16 breath/min was not tolerated by the increasingly active patient. 'The first day, we couldn't interrupt the mask ventilation,' recalled Dr Bonin. 'Up to the third day, we could stop three to four times for up to 15 minutes at a time. By the fourth day, we could stop for 30-60 minutes and, on the fifth day, the pause was 16 hours.' The next day, the patient's lung function had almost recovered, with an arterial carbon dioxide less than 50 mmHg. The Hemolung treatment was stopped.
H-D Hilgers is one of 12 patients currently included in an ongoing feasibility trial in Germany. 'I'm very excited about this result,' Dr Bonin said. 'Using the Hemolung we saw a very quick recovery. The device is as simple as a haemodialysis and was easily inserted – just the right choice for such an acute situation.'
While receiving Hemolung therapy the patient's transplant listing was upgraded to 'high urgent'. Four weeks later, sitting with other patients, nurses and physicians at McDonald's, an organ donor was found. Meanwhile, this patient celebrated his 50th birthday. 'Last week-end,' he said happily,' I took my bike out of the garage for a first cruise.'