Ultrasound-MRI fusion advances prostate therapy
Prostate cancer is the second leading cause of death among men yet remains one of the most frustrating for physicians to find and treat. Merging the strengths of imaging modalities helps, but does not solve all the problems, says John Brosky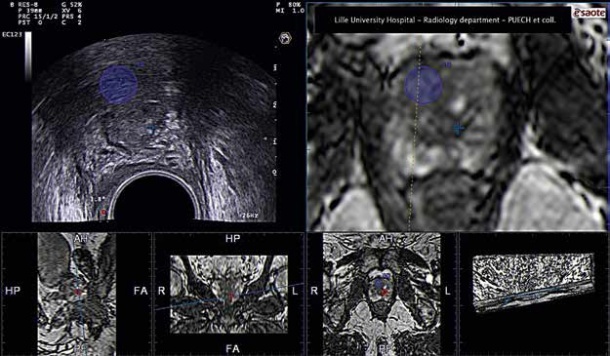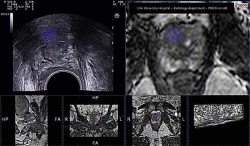 The cure for prostate cancer is often worse than disease. One in six men will have prostate cancer, and one in 36 will die from it. What is certain is that the diagnosis of prostate cancer will put a man on a clinical pathway that can seem more frustrating, difficult and painful than being left alone to die from the disease.
An MRI examination is the undisputed gold standard for detecting and mapping prostate cancer. Yet urologists are not exactly happy to hand over patients to radiologists who increasingly are using their heavy metal scanners to perform the biopsies that are essential to confirm a cancer. Urologists prefer ultrasound, which is easier to use to examine patients, far less expensive than MRI and, best of all, urologist-friendly. Other than using a finger, it is the only tool available to them. As scientists, urologists must agree with radiologists, however, that ultrasound is not much better than using a finger to detect cancer. Despite tremendous technological advances that include colourful images, elastography, contrast agents and 3-D reconstruction, ultrasound cannot see tumours in the prostate anywhere near as well as MRI. The signal does not penetrate far enough to cover the entire organ and the tissue is famously tough to penetrate, even for high-end, highly sensitive elastography probes.
The tension in this give-and-take between urologists and radiologists comes down to interventions to extract core samples of tissue and then, potentially, to treat a patient's cancer. If ultrasound must concede the diagnosis of cancer to MRI, it continues to hold an important advantage in guiding needles for biopsy and treatment. The opportunity seems obvious for makers of both MRI scanners and ultrasound systems. Why not merge the diagnostic images of an MRI to use as a map with the real-time images of ultrasound to improve the guidance of biopsies and treatment? All manufacturers have introduced MRI-Ultrasound fusions systems, or soon will launch one, as it is the hot new area for development. A prostate intervention using ultrasound alone is far from optimal, to use the professional description. 'We are going in blind,' was a more direct description at the French Radiology Congress used by Philippe Puech MD, from the University Hospital Centre of Lille, France. 'Yet currently,' he added, 'it is the only imaging technique that allows a real-time visualisation, making it indispensible for guiding biopsies or minimally invasive treatments.'
At the congress Dr Puech presented the state-of-the-art for fusionguided prostate interventions using systems from GE Healthcare, Philips Healthcare, Toshiba, Hitachi and Esaote. He also reviewed the Koelis Urostation with 3-D reconstruction for robotic surgical intervention, the Artemis 4-D navigation system from Eigen, and the stereotactic BiopSee system from Pi Medical. The overall result of the Lille experience with MRI-Ultrasound fusion images is a 16% improvement in finding significant cancers requiring only four targeted biopsy cores compared to the traditional 12-core 'blinded' systematic posterior biopsies series, Dr Puech reported. 'It is significant, but not optimal, and certainly not convincing for patients or regulators who have delivered several polemics regarding overtreatment of prostate cancers.'
Today, despite technological advances for ultrasound, in-bore MRI biopsy may be a one-stop shop for prostate cancer diagnosis, though 'passing the biopsy procedure to a radiologist is not always welcomed by urologists,' he said. Responding to a question about the effectiveness of a urologist simply 'mentally merging' MRI images while looking at real-time ultrasound during a biopsy intervention, Dr Puech responded, 'We did not demonstrate a difference between cognitive and computer-assisted targeted biopsies under ultrasound guidance.' 'MRI targeting of suspicious lesions before biopsies seems an ineluctable evolution of prostate cancer diagnosis, which is compatible with biopsies performed by urologists with or without image fusion systems,' he concluded.
PROFILE
Philippe Puech MD PhD works in the Genito-urinary Imaging Department of the Lille University Hospital Centre in Northern France. He has both a clinical and research interest in prostate cancer imaging and minimally invasive treatment. He recently developed an interactive mobile teaching course – Imaging of Prostate Cancer – for the iPad.