Contrast enhanced US expands at POC
Once considered an add-on examination, CEUS expands diagnostic capabilities and is leading to new insights. Where contrast enhanced ultrasound (CEUS) is restricted to radiologists, or performed only by trained technicians, its utilisation has stabilised, taking its place among more established imaging modalities.

Report: John Brosky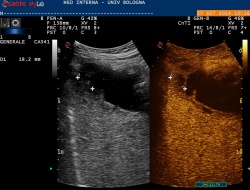 In the hands of physicians, especially those on the forefront of patient care, however, the use of CEUS is expanding as clinicians across a range of specialty practices for internal medicine, gastroenterology, nephrology, surgery and endocrinology and others.
In Italy, ultrasound has been routinely used by frontline physicians since the 1970s, so that the adoption of CEUS has been more widespread and Italy is more advanced with its use at the point-of-care (POC) than other countries, according to Fabio Piscaglia MD, Professor at the University Bologna and head of the Unit of Ultrasound in Internal Medicine at the university hospital.
A member of the Board of Directors of the International Contrast Ultrasound Society (ICUS), and Past President of the European Federation Societies Ultrasound in Medicine and Biology (EFSUMB), Prof. Piscaglia will speak about the uniqueness of the Italian experience with CEUS at the Three Country Meeting of the German, Austrian and Swiss Societies of Ultrasound in Medicine.
Germany is the other main European nation where CEUS is largely used by clinicians rather than radiologists, he explained. 'The use of CEUS by radiologists tends to be restricted to specific indications in which use of alternative techniques could harm patients, such as undue exposure to ionising radiation for benign lesions. This is because radiologists can choose from different imaging techniques and, if they need to discuss a case with a surgeon, it is easier for the surgeon to read CT images to which they are used, rather than a CEUS image,' he explained. Furthermore CEUS has to be performed directly by the physician and not by technicians and only read by radiologists.
Conversely, in a clinical setting, CEUS is becoming more widely used and this is increasing because there is no alternative that can improve diagnostic capabilities while being directly accessible to clinicians and easy to use.
'Anyone using ultrasound in the POC setting would immediately be able to use a contrast agent, and prone to use one because it can answer a specific clinical question immediately,' he explained.
At the point of care, the availability of equipment and access to medical imaging becomes a critical factor. In smaller hospitals, often there is no CT scanner, and in other hospitals it is not accessible during the night shift.
'You can do a CEUS exam right away whereas you might have to wait two days for a CT scan, or wait two months for an MRI exam. Just the other day a patient complained of pain immediately after a paracentesis and we could go with the equipment to the bedside, not moving this patient to the radiology suite. We were able to diagnose and localise an active bleeding with CEUS within five minutes from onset,' Prof. Piscaglia said.
Whereas in the past ultrasound was considered to be a supplemental diagnostic procedure to support MRI or CT findings, increasingly CEUS is becoming a primary exam. There are also new applications for this emerging modality.v'One area where we are very interested in applying CEUS is assessing the response to chemotherapy in new anti-angiogenetic drugs,' he explained.
'There is a great clinical need as many patients undergo a treatment that is extremely expensive and difficult, only to learn after two or three months that the treatment was not effective. If CEUS can give an answer much earlier about which patients are responding, this would be very valuable for patients who are taking the drugs but not getting any benefit, only adverse events. And this would be valuable for the healthcare system because it could save the expense of an ineffective treatment.'
'Another application we are pursuing is the use of CEUS to establish a diagnosis of portal vein hypertension, which is a complication of cirrhosis,' said Prof. Piscaglia. 'Currently there is only an invasive procedure with a catheter to measure portal vein pressure, which is expensive and poses risks for the patient. With the University of Barcelona, and with funding from the European Union, we are investigating whether an analysis of micro-bubbles circulation inside the liver can predict the level of portal pressure.'
In conclusion, he said: 'The most important things to say about CEUS are that it is an extremely safe procedure that is of great benefit for patients. It can be performed even at the bedside. Moreover it is the most patient friendly technique since the clinician remains close to the patient in direct contact with him, which becomes even more important when working with children, who do not require sedation and who can remain in direct touch with parents, differently from CT and MRI.
PROFILE:
A medical graduate from the University of Bologna (1992), Fabio Piscaglia MD now heads the same university's Centre for Ultrasound in Internal Medicine, and today is an internationally recognised expert in the use of ultrasound and CEUS to detect and evaluate liver tumours and other abnormalities. He frequently publishes and lectures in this field and is a peer reviewer for more than 15 scientific journals. From 2011-13 he presided over the European Federation of Societies for Ultrasound in Medicine and Biology.