Ultrasound-guided surgery proves better for palpable breast cancer
Toshiba ultrasound equipment is helping provide a better oncological and cosmetic outcome for women recovering from breast cancer treatment and surgery. Daniela Zimmermann discussed intraoperative ultrasound-guided breast surgery with surgeon Dr Monique Petrousjka van den Tol, from the Department of Surgical Oncology, VU University Medical Centre in Amsterdam, the Netherlands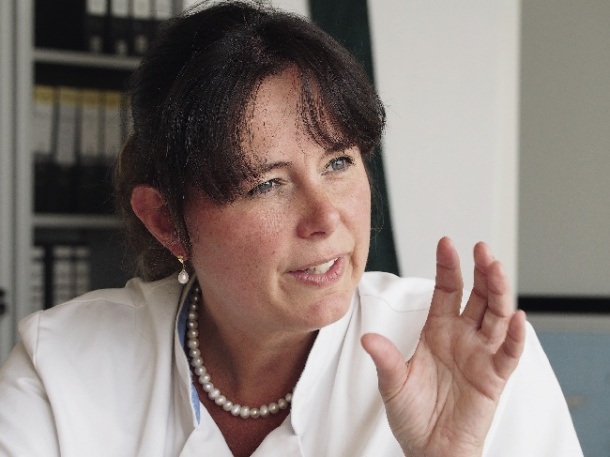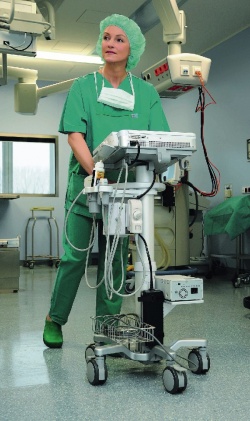 A breast cancer diagnosis is traumatic for any woman. Yes, survival rates are high, but other factors make the treatment process towards recovery is a daunting experience. Surgery and radiotherapy effects are important factors, but for many women it is concerns over the cosmetic impact on a body area that can be central to their identity.
Breast conserving surgery is the treatment of choice for early-stage breast cancer, with the aim to achieve tumour-free resection margins and a satisfactory cosmetic appearance. However, the accuracy of the margins impacts on the risk of local recurrence, the need for re-excision, mastectomy and additional boost radiotherapy, all of which have a cosmetic impact.
Conducted in the Netherlands and published in The Lancet, the COBALT (Cosmetic Outcome of the Breast After Lumpectomy Treatment) trial examined the benefits of intraoperative ultrasound guidance for palpable breast cancer excision.
The study – in which the researchers used the Toshiba portable ultrasound system VIAMO and 14 MHz ultrasonography probe – builds on the dissertation of Dr Nicole Krekel1 from VU University Medical Centre (VUmc), Amsterdam, which attracted much attention not only due to its findings but also the use of a powerful photograph of a naked woman with shaved hair and a striking gesture with a breast marked for incision for the cover of the work. After seeking expert advice (legal and at VUMC senior executive level), it was felt the image was relevant, appropriate and portrayed the gravity of the subject matter.
Ultrasound versus palpation-guided surgery
With the hypothesis that ultrasound-guided surgery has the potential to improve surgical accuracy for palpable breast cancer, the study compared ultrasound-guided surgery with palpation-guided surgery with respect to margin status and extent of healthy breast tissue resection.
Presently, the standard practice for palpable breast carcinoma excision is guided by pre-operative diagnostic images and the surgeon's skill, which can be less accurate. Figures suggest positive resection margins in up to 41% of patients and surgeons tend to over-excise healthy breast tissue to attain negative margins
Dr Monique Petrousjka van den Tol, at the Surgical Oncology Department in VUMC, played a leading role in the COBALT study. 'We looked at patients who had a breast sparing operation and we saw that the main reason for bad cosmetic results was the volume of tissue taken away,' she explained. 'We started thinking about why so much tissue was removed when we operated on small tumours.
'We studied 780 pathology reports and looked at the tumour size. We made a mathematical formula and said that, when we remove a tumour, we'd take out 1cm of healthy tissue - that was our goal, so we designed a ratio of "tumour-plus-1cm".'
Dr van den Tol and the team believe ultrasound offers an effective alternative guidance technique during surgery over needle localisation, although they acknowledge that studies in this area are limited.
Ultrasound offers greater accuracy
To augment the dissertation presented by Dr Krekel, who works with Dr van den Tol at VUMC – 132 women with palpable T1-T2 invasive breast cancer were invited to participate in the study; the patients came from VUMC, the Red Cross Hospital in Beverwijk, the Alkmaar Medical Centre, Waterland Hospital, Purmerend, and Gelders Vallei Hospital, Ede.
Participants were randomly assigned to either ultrasound-guided surgery or palpation-guided surgery. For those in the ultrasound-guided group, Dr van den Tol explained how the surgeon located the tumour by palpation and ultrasound and compared the findings with pre-operative digital ultrasound images. The tumour diameter was measured and marked on the skin.
During the ultrasound-guided surgery, she said, a surgeon and assistant focused on the incision purely on ultrasound images compared to palpation-guided surgery where surgeons used their fingers to guide the dissection and constantly checked from ultrasound to pathology to measure the amount of healthy tissue and avoid removing more than necessary.
'Ultrasound imaging helps to make the tumour and margins for palpable breast cancer very visible. We can even lower the ratio below 1cm for some patients,' the surgeon explained.
Cobalt study analysis
Analysis of resection margins showed a reduced proportion of invasive tumour involvement with intraoperative ultrasound, with tumour-free margins in 63 (97%) of 65 patients who underwent ultrasound-guided surgery compared to 57 (83%) of 69 individuals in the palpation-guided surgery group. Seven (11%) patients who received ultrasound-guided surgery and 19 (28%) who received palpation-guided surgery needed additional treatment.
Ultrasound-guided surgery also resulted in smaller excision volumes, reduced unnecessary resection of healthy breast tissue and could contribute to improved cosmetic results and quality of life for the patient. The improvement of margin status also saw less additional treatment.
An additional, a boost of radiotherapy was deemed sufficient for six women in the ultrasound-guided surgery group and re-excision in one patient because extensive DCIS was present at the surgical margin. In the palpation-guided surgery group, 11 women received an additional boost of radiotherapy, three underwent re-excision and five had a mastectomy.
Dr van den Tol: 'We know radiotherapy is another important factor in cosmetic outcome, we know it should be done in every breast-sparing operation, so we need to do it, but we need to have as low dose as possible and operate radically so we don't have to boost radiation.
'Overall, the COBALT trial results show that intraoperative use of ultrasound significantly increases the surgical accuracy of palpable breast cancer compared to palpation-guided surgery.
'Surgery performs better, we are more radical in a higher percentage of patients and that leads to less re-operation,' she added. 'We didn't have to perform any ablation therapy in patients in the ultrasound group, but we did have patients we needed to ablate in the other group.'
The researchers do, however, acknowledge that ultrasound has its limitations with lobular carcinoma because the tumour is less rounded and harder to see.
Spreading the word
There are critics of the approach, with concerns that it will change demands on surgeons and limit the role of radiologists. However, Dr van den Tol pointed out that VUMC surgeons worked closely with radiologists over the study and also compared the results on more expensive ultrasound equipment to Toshiba's portable Viamo and found that the image quality was comparable for breast cancer surgery. 'We could always make the lesion visible with a basic ultrasound machine and did not need expensive equipment,' she confirmed. 'We also saw a learning curve, where surgeons could adapt to this procedure among ten patients.'
Dr van den Tol has been teaching the technique to surgeons at other centres, carrying her portable Viamo with her. Researchers maintain that intraoperative ultrasound can improve a surgeon's performance and that surgeons should gain competence in ultrasound use to guide their surgery and avoid the need for a radiologist to be present. In the case of non-palpable breast cancer surgery, of course the intraoperative use of ultrasound will need further radiologist assistance.
Cosmetic advantages
Ultrasound guided surgery has clear advantages from a cosmetic perspective and reduced the need for further treatment, as well as reducing psychological distress in the patient along with health costs.
While a strict cost-effectiveness study has not been conducted, Dr van den Tol said the team looked at re-operation, radiation boost and cause of death.
Findings: if 30 patients or more per annum have surgery in a hospital, it is cheaper to use ultrasound than palpation-guided surgery.
The team is enthusiastic about the implementation of the technique and will continue the COBALT study to further assess cosmetic results. 'We've proved that ultrasound-guided surgery is better for palpable breast cancer2,' the surgeon confirmed, 'and if we do have better cosmetic results we have that extra motivation.'
1. http://tinyurl.com/o64xfyu
2. http://tinyurl.com/lpae7fk (YouTube
Toshiba is at Medica, Hall 09, booth D05
More on the subject:
More on companies: