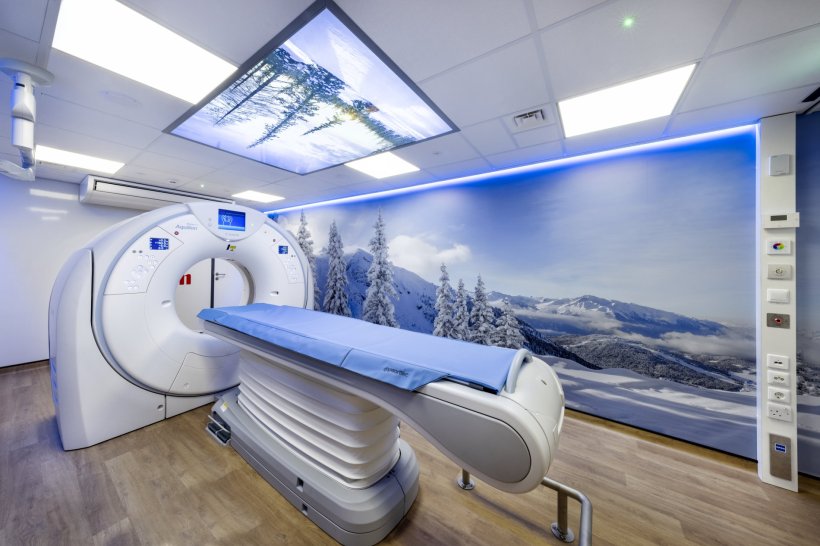 Image source: Canon Medical
Sponsored • Computed Tomography
Mobile Imaging Solutions: Clinical Confidence Anywhere
The ever-changing healthcare environment comes with many challenges. The growing demand for flexible solutions is where we can contribute to the industry and offer different mobile imaging solutions to cover hospital, clinical and patient needs. To bridge new equipment installations, temporary high workloads, or long-term additional capacity, Canon Medical provides mobile solutions according to customers' needs and wishes.
Canon Medical's full fleet of Mobile Imaging Solutions is equipped with state-of-the-art medical equipment and technology. All that is required to take advantage of a mobile solution, is sufficient parking and power facilities. Canon Medical collaborates closely with its customers to find out what is required: whether it should be a Rapid Response solution that needs to be shipped overseas, a Hybrid solution that needs to be connected to a clinic or a City Hopper solution that will commute between hospital locations.
Currently, all Mobile Imaging Solutions are equipped with an Aquilion Prime SP CT*, which includes an AI-assisted reconstruction technology named AiCE, short for Advanced intelligent Clear-IQ Engine. This is an innovative Deep Learning Reconstruction technology that has been trained to reduce noise and boost signal to deliver sharp, clear, and distinct images at speed. From fast patient throughput to robust cardiac scanning and new diagnostic capabilities, the Aquilion Prime SP is the CT system of choice for all imaging needs. The system empowers facilities to handle all patients from pediatric to bariatric, even the most challenging cases, while providing staff with a fast and efficient solution to make their work easier. And all that within a Mobile Imaging Solution; you get clinical conficence anywhere.
CT Rapid Response: Outstanding performance wherever you need it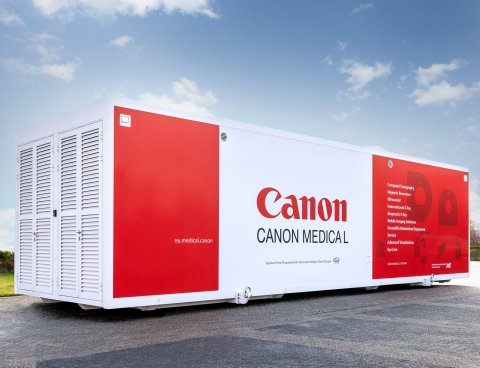 CT imaging can play a critical role in managing patients under emergency conditions with unusually high workloads or in infection control situations. With the CT Rapid Response, Canon Medical offers a deployable imaging solution that enables uncompromising workflow and imaging performance as well as personal safety anywhere, anytime.
The solution can be transported quickly and easily by road, rail, sea, or air. Unloading and setting up is done in a minimum amount of time and the CT Rapid Response immediately offers an uncompromising and ergonomic CT imaging solution.
In addition to a fully equipped and 360-degree lead protected CT scan room, the solution is built with hospital grade wall and floor installations, making work efficient and safe for everyone.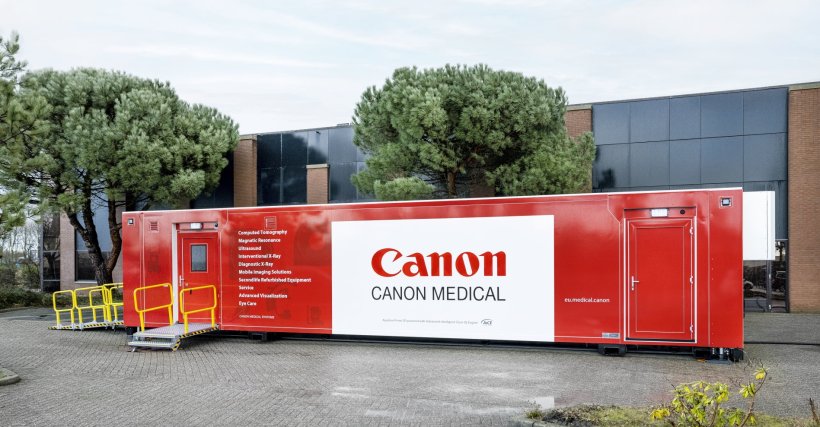 Image source: Canon Medical
CT Hybrid: State-of-the-art medical imaging at any location
The CT Hybrid is designed to support the customer's need for a semi-permanent additional imaging solution. There is no need for high staircases or lifts as the unit is placed close to ground level, making it easily accessible for all staff and patients. A small two-step leads to the side entrance of the CT Hybrid, entering the solution directly at the patient dressing room and the staff's control room. For patients visiting the CT Hybrid in a wheelchair, stretcher, or bed, the back entrance is facilitated with a ramp, ensuring the easiest possible access. With the inside of the CT Hybrid being surprisingly spacious and fully equipped, it is a pleasure to work in for operators. Due to the size and technical design of the CT Hybrid, transport is easily managed. Positioning the CT Hybrid at any location will be smooth sailing. Four built-in hydraulic legs will lift the unit off the trailer independently, leaving the only job for the driver to move the trailer away from under the solution.
CT City Hopper: Interim solution that ensures 100% uptime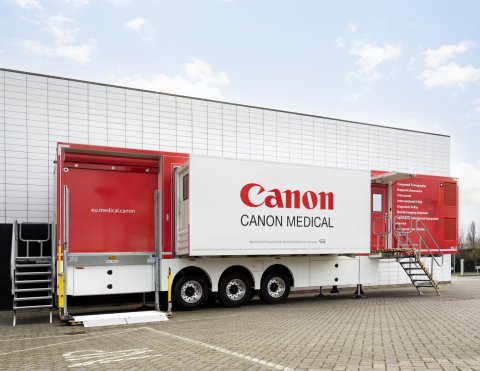 With expandable sides, a patient staircase and elevator for easy access, this flexible unit can be placed close to your clinic or hospital. You can even use this solution to commute between different hospital locations as the CT City Hopper only needs an hour to be set up after arriving on site.
The City Hoppers are designed with user and patient experience in mind. Expandable sides make this solution feel spacious. Wall and ceiling art as well as dimmable color-lights and calming music will make sure that the patient has a relaxed and comfortable experience during their examination. For post-processing, the City Hoppers have Vitrea Advanced Visualization on board. Vitrea Advanced Visualization is a modular viewing platform that provides a broad range of functions with the option of adding more functionality when you need it.

For more information about Canon Medical's Mobile Imaging Solutions, please head to the website via the QR code or contact us via eu.medical.canon
* Upon request, other imaging modalities can be included in the Mobile Imaging Solutions
More on the subject:
More on companies: