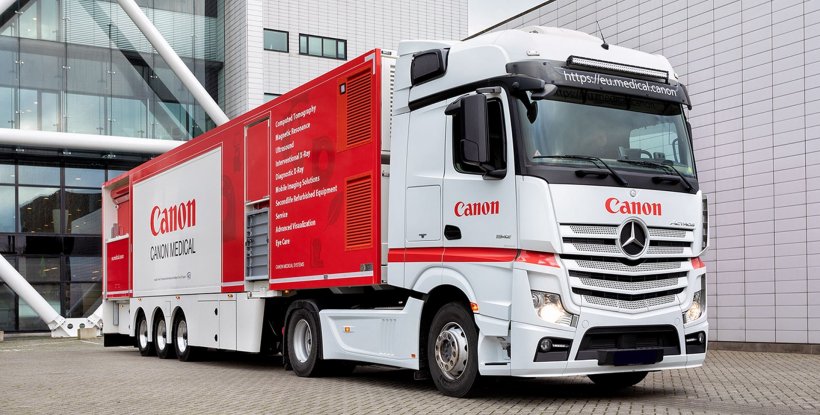 Image source: Canon Medical Systems Europe
Sponsored • All-in-one imaging trailer
Mobile solutions for the COVID-19 frontline
With public health issues continuing to make daily mainstream news headlines across the world, it is clear how much change the healthcare environment is going through. Not only are there existing pressures on resources, space, staff, certain procedures, and budgets, but there are brand new ones resulting from the ongoing global COVID-19 pandemic.
This has led to an even greater need for flexibility, affordability, and rapid response in medical imaging solutions. As well as being world-renown for its innovative and reliable long-term imaging products, Canon Medical Systems Europe provides temporary high-quality imaging solutions that are proving invaluable in meeting the current pressures on healthcare facilities.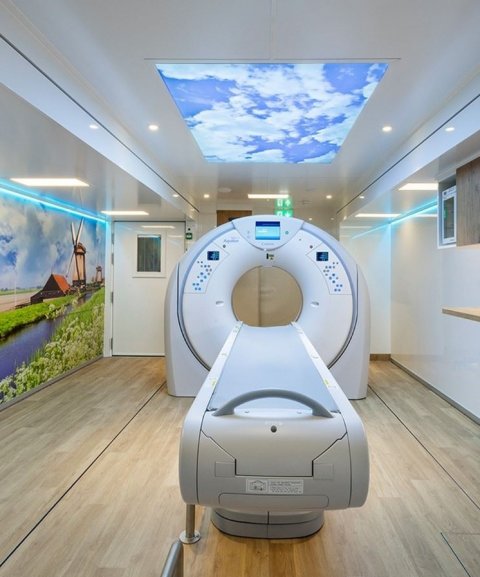 The Mobile Trailer is developed with the highest safety regulations in mind to ensure a comfortable environment for patient and staff. It features a generous working area, including a separate control room, specified to GDPR regulations, with air conditioning, patient monitors, outside surrounding monitors, telephone and PACS connections, contrast control panel, comfortable chairs for the operators, and privacy glass. It also features a spacious scan room, which is fully air-conditioned and can be monitored easily. Wall and ceiling art, dimmable lighting that can be changed to different colors, and calming music, help the patient feel more comfortable and relaxed during their examination.
The trailer is equipped with an Aquilion Prime SP with Advanced intelligent Clear IQ Engine (AiCE), Healthcare IT Vitrea Advanced Visualization, Bayer/MEDRAD® Stellant D Dual Syringe CT Injection System, Huntleigh LifePulse ECG-monitor, and contrast oven. The wide bore medical equipment provides a non-claustrophobic experience for the patient. Patients restricted to beds can be maneuvered into the trailer via the patient lift. The trailer has a waiting and dressing room, washing facility, panic button, and a separate stair entrance for mobile patients.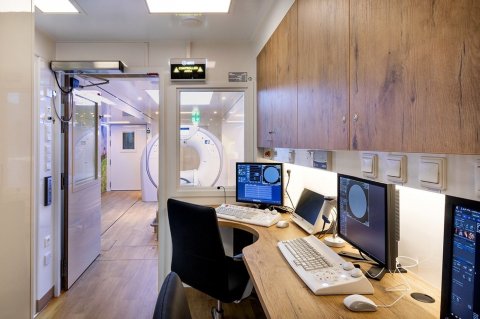 This Mobile Imaging Solution can provide excellent support for customers to meet peaks in demand, extend capacity for a longer period, cover a period of planned downtime, or as a rapidly deployed back-up. The deployment model ensures that the trailer can be quickly transported to wherever needed. Before delivery, Canon Medical carries out a site survey to ensure seamless installation prior to delivery.
The aim is to always ensure 100% uptime and 100% satisfaction through Canon Medical's outstanding European customer and service support. Renting equipment such as this Mobile Trailer, enables clinical teams to access the latest technological developments and enhancements, while the responsibility for servicing the equipment lies with Canon Medical, as per the rental agreement. Renting equipment can be a rewarding solution to fulfil immediate clinical needs while avoiding larger capital investments.
Source: Canon Medical Systems Europe
More on the subject:
More on companies: